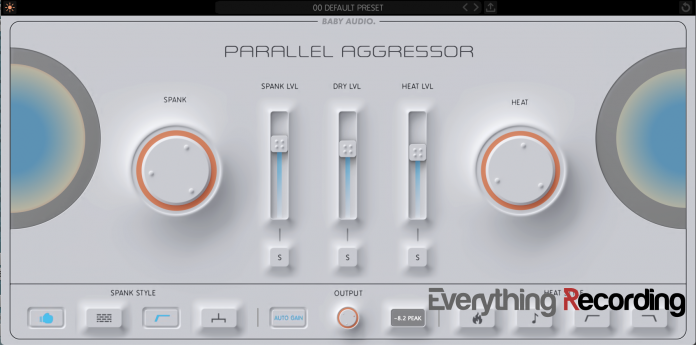 Parallel Aggressor Rundown:
Pros
- Saves precious mouse clicks and routing for compression and saturation
- So simple a four-year-old can use it (and has)
- Great sounding compression and saturation
Cons
- Needs ability to solo multiple faders at once
- Presets need organization by creator and application

Summary
So far, we're four plugins deep with BABY Audio and they just keep getting better. Parallel Aggressor takes pieces from previous creations and pushes them to all-new heights.
Be Aggressive – B- E- Aggressor!!!
Come on, everyone chant with me. BE AGGRESS…! Nope? Alright, I'll force Everything Recording's own B. Church to do it with me. He just told me I couldn't do that unless I actually pay him for his work. Welp, better whip out the modern-day equivalent of the wallet (aka Venmo). Wait, nevermind. He wants too much much money to put on a BABY Audio cheerleader's outfit. Sorry everyone – not going to happen unless the folks at BABY Audio chip in a few dollars. 
BABY Audio has returned with yet another powerful tool that my four-year-old niece could operate (and has). Behold, Parallel Aggressor, a plugin that saves you precious mouse clicks by splitting audio for parallel processing. Once broken up into two new paths, audio is routed into compression and distortion sections and blended into the dry signal. You may be wondering, don't they already have this? Well, yes, but they've picked up where I Heart NY left off. This plugin pushes the concept to new heights with multiple modes of compression and an added Heat control similar to the Heat knob in SUPER VHS.
The Interface
Continuing on Comeback Kid's aesthetic, the top menu gives you a choice between dark mode, not so dark mode, and my personal favorite, white mode. Even though I'm probably full of it, I'm going to say that this mode is due to my "Everything Recording" Edition design I proposed in the Comeback Kid review. Just give me a second to pat myself on the back. In all seriousness, it's a sleek-looking plugin. 
The controls are simple too. The left side controls the compression with the SPANK controls, and the right controls the distortion with HEAT. Right up the center is Dry signal controls and Output.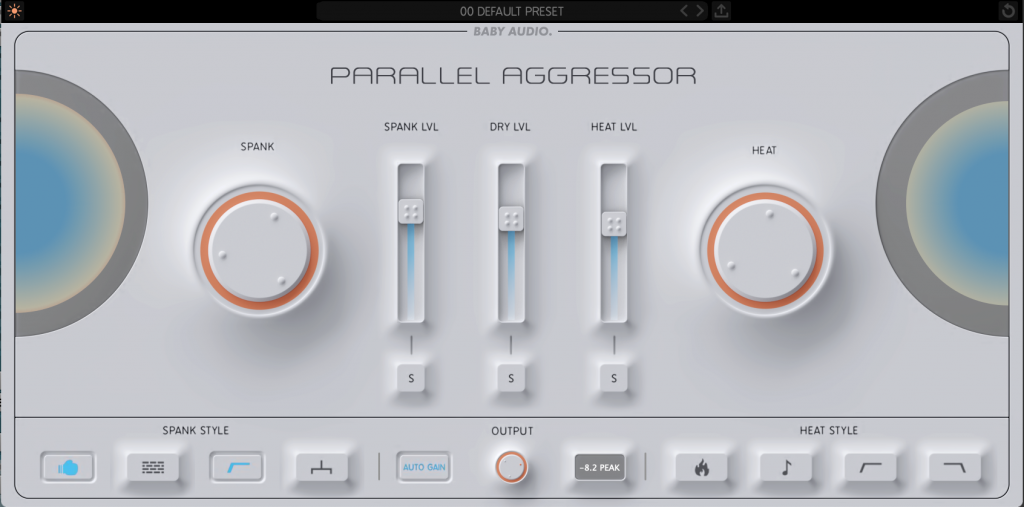 Operations are as simple as dialing the SPANK and HEAT knobs until the orbs on either side display a little orange. I would suggest doing this on a more dynamic portion of your track as well. Once both controls are dialed in, adjust each LVL fader until it sounds like you want. Additionally, each section has  Style control buttons you can figuratively smash as well. This plugin exudes aggression, so why not get a little rough with it?
If You're Going to Crank it, You Better Spank It – TLA.
A common term for aggressive use of compression, spanking has been synonymous with really pushing things to the extreme. I mean, Tom Lord Alge named his studio after it.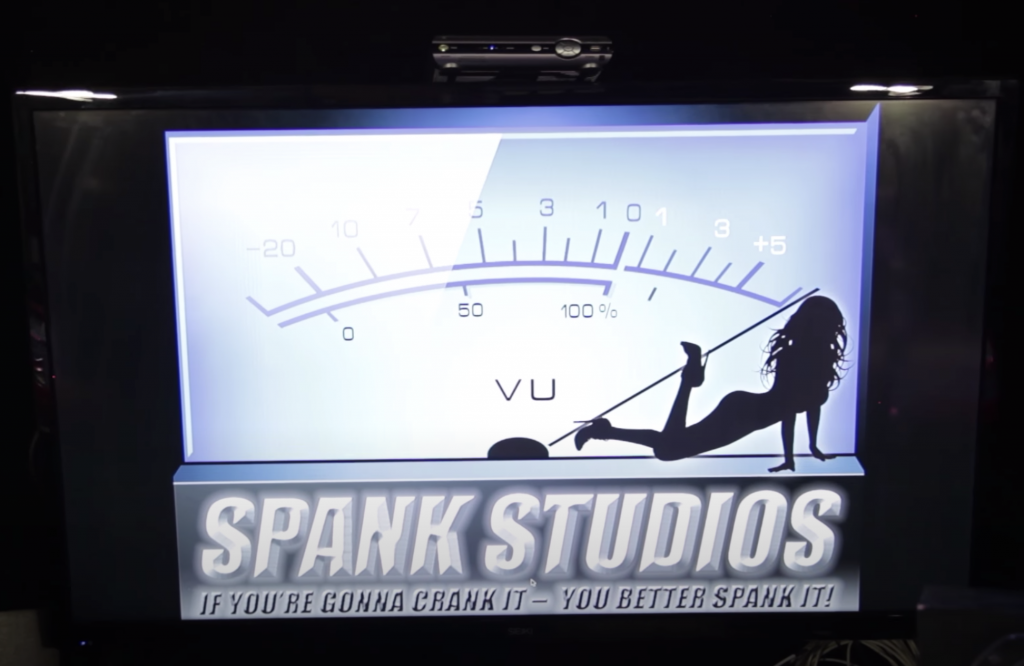 SPANK takes I Heart NY's compression algorithm and expands the controls for versatility. The bottom left section houses SPANK's Style controls. These are extra goodies to further shape your dynamics. 
Starting from the left is the PUNCH control. Aptly represented with a boxing glove, PUNCH gives audio a little more impact by letting a few more milliseconds of material to pass unscathed. The EXTRA SMACK control pushes things farther with a faster release time to get things pumping while dialing back the attack time similar to PUNCH. Rounding out the compression section is a high-pass filter for the side-chain and a very novel Mono control to only place compression in the middle of the field.

Packing HEAT
Nowadays, some source audio never leaves the DAW. Something mysterious happens in that transaction from numbers to voltage that takes the windows from transparent to tinted. Heat takes the saturation control from SUPER VHS and gives it the spotlight.

The EXTRA HOT control throws a second distortion into the mix while the TONE control pushes more mid frequencies for a more musical overdrive. For further tone shaping, high and low-pass filters tame the lows an highs for the perfect balance. The low-pass slopes at 150Hz while the high-pass falls at 7.5kHz.
Output Section
With three faders, things can get loud quick. To combat the pushing the levels to oblivion, Parallel Aggressor has a dedicated output section. Auto Gain takes an approximated guess at how much the volume has increased and level matches. For fine-tuned trimming, the OUTPUT knob is available. Lastly, a Peak detection meter shows you the outgoing level. Conversely, if you'd like to see RMS, click the meter and the display changes.

In Use
I found Parallel Aggressor to be a fantastically simple to plugin to use. The only challenge is deciding just how you want to shape your audio. The added functionality to the compression and saturation sections of I Heart NY and SUPER VHS push these concepts to new limits. While on the surface, it could appear that these are recycled bits of other plugins, but they're not. BABY Audio has taken features from each and expanded them into all-new tools with individual personality and flavor. I found myself pushing this plugin beyond parallel processing and straight into FX territory. The utility alone in housing two auxiliary busses saves mouse clicks and babysitting another fader. Parallel Agressor is vibe for days.
Aggressor Transgressions
Although I have no complaints about how Parallel Aggressor sounds, there are a few functionality issues I've come up against. I'd like to see one of two things changed: either a bypass button for each fader or the ability to solo more than one fader at a time. Sometimes I need to A/B between my processors, and right now, it's a little complicated. Lastly, I'd like to see the presets menu sorted a little more. When you have curated presets by big names, it's nice to see what they bring to the table. I'm not sure which preset was made by each person, and sometimes, that helps in genre-specific mixing. Also, get a few more people to curate more presets for an update. I tend to pay attention to preset folders with names I know. Yes, this is me using a review to throw my hat in the ring for Everything Recording presets.  
In Conclusion
Another day, another great plugin by BABY Audio. Would you expect anything different? As subtle as you want or ripping a hole in the time-space continuum, Parallel Aggressor has you covered. I'll take an original plugin over another piece of rack gear any day, and BABY Audio has not disappointed. Here's to workflow!
For more information, and to buy visit our affiliate link HERE.
Affiliate