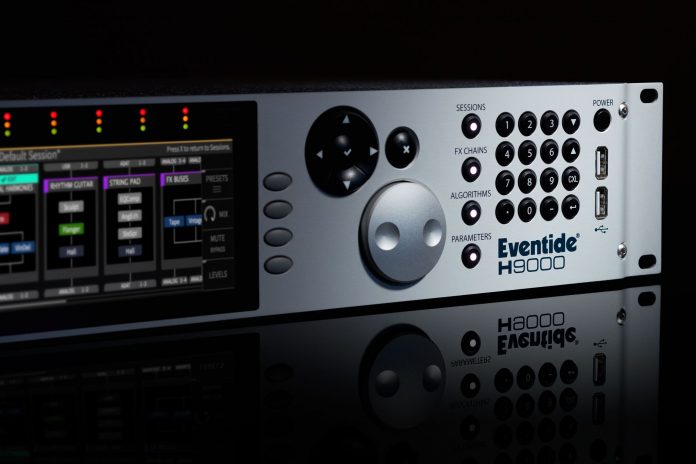 Since I was a teenager, watching the likes of Steve Vai, Joe Satriani, and Eric Johnson, The Eventide H3000 was a huge part of the soaring solos and great effects used in their signal chain. I always wanted one but never had the cash to own it. I still don't really have the cash but I still have a huge spot in my heart for the Eventide units. Now the H9000 will be exhibited in AES this October.
LITTLE FERRY, NJ, USA: recording technology trailblazer Eventide is proud to be exhibiting the H9000 — an all-new network-ready, 16-DSP, multi-channel, rackmount audio effects processing flagship, featuring eight times the processing power of the current-generation H8000 to continue the company's unbroken cycle of delivering industry-leading signal processing power to the pro audio community — at AES New York 2017, 

October 18-20

, Jacob J. Javits Convention Center, USA…

The culmination of a multi-year development cycle, the H9000 features four quad core ARM processors serving as 16 DSP engines, eight channels of pristine analog audio I/O, AES/EBU, ADAT, 16 USB audio channels, and, optionally, connection to standard audio networks, including MADI, Dante, Ravenna, and more.

Multichannel processing makes the H9000 a suitable platform for surround sound and for processing several tracks of audio simultaneously. On top of that, the H9000 introduces the concept of FX CHAINS, allowing users to connect any set of four effects with flexible routing. FX CHAINS can be created to act as a voice channel, a guitar 'pedal board', or a modular synth with effects, etc.

The H9000's remote control application, emote, is available for users working 'in the box' or over an audio network. emote is available as a standalone app for Mac and PC, and as an AU, VST, and Pro Tools plug-in.

Says Eventide 'resident fossil' Anthony Agnello: "Audio effects designers are power-hungry souls. We have an insatiable thirst for processing power. With each advance in processing speed and storage capacity, new — often unimagined — effects become possible.

"In the early Eighties, pro audio's first rackmount multi-effects processor, the SP2016, was used by researchers and developers to create groundbreaking effects. Back then, artificial reverberation was the holy grail, and the SP2016 excelled at reverbs — both natural and unnatural, including infinite reverbs, inverse reverbs, gated reverbs, and more besides. But the SP2016 was designed as a general-purpose processor, and, as a consequence, new, innovative effects like shimmer, band delay, timescramble, and vocoding became commercially available for the first time.

"The SP2016's successor, the H3000, was the premier rackmount processor of the Nineties, and introduced a wealth of new effects. The H4000 and H8000 flagships were the most powerful rack boxes of their time and helped usher in the concept of surround sound reverb. The H9000 is ready to take its place at the pinnacle of our product line and we're eager to discover the kinds of new effects that lie in store."

Eventide will be demonstrating the H9000 alongside award-winning plug-ins on Booth #321 at AES New York 2017 — the 143rd International Convention — on 

October 18-20

, Jacob J. Javits Convention Center, USA.
Currently available in limited quantities, general availability of the H9000 is scheduled for 
March 31, 2018
. (The H9000 will be available in two models — standard, with full front panel control, priced at $6,999.00 USD, and the blank front panel H9000R, priced at $4,999.00 USD.)
Affiliate