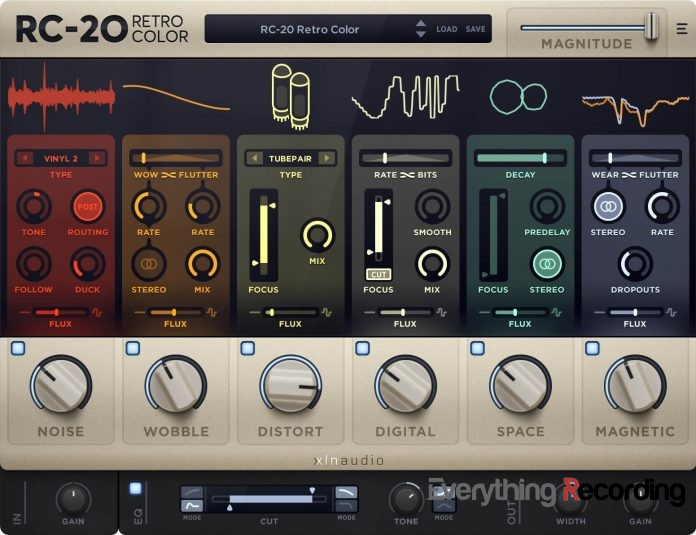 RC-20 Rundown:
Pros
- Versatile effects, can be as subtle or vicious as you want.
- Intuitive Interface
- Great presets, with most needing very little tweaking
Cons
- No real cons. Only suggestions
- Could use a Tape Delay
- Tempo Sync on Wobble and Magnetic

Summary
If your tracks are repetitive, verging on boring, you need RC-20.
To celebrate XLN Audio releasing RC-20 for Splice Rent-to-Own, we have assembled a "mini-review" of reasons explaining why this plugin is more than worth $4.99 per month for 20 months. If you know you want it already, head on over to Splice to start renting.
Everything Recording Review
Inspiration Lost
Sometimes, that spark of creativity doesn't come in the chords you play or the sample you're using. It comes in the effects you incorporate. The problem with some effects is the time it takes to get everything just right. Usually, this involves multiple plugins that do separate things, and by the time you're all ready to go, the spark is gone. Wouldn't an all-in-one solution be helpful?
XLN RC-20
Although the RC stands for "Retro Color," don't mistake this plugin for a one-trick pony. This plugin is just as comfortable in a Vaporwave track as it would be in a Country chart-topper. Sporting six different modules, each can be used either singularly or in combination to create a vast array of textures. To add more of each module, turn the individual knob underneath each effect you want to push into your signal. Also, each module has a custom-tailored Flux parameter that introduces non-linear random fluctuations. These differences can either be subtle or all-out entropy.
Since versatility is the name of the game, you need a tool that encourages that. The Magnitude slider facilitates this by working as a master VCA / blend. As these presets can introduce all-out audio mayhem, it's best to be able to present just the right amount of crazy in your signal. Turn the Magnitude up; you get more color, turn it down and get more original signal.
FX Galore
Across the middle is the FX Module, which works as the heart and soul of RC-20. This area is where all of the magic happens. Each section has clear icons across the top to explain what they do. Below are the various modules and what they do.
Noise
What once was a nuisance to mix engineers has become the new "vibe." With digital being a more sterile medium, having a moderate amount of hiss is encouraged to breathe vintage life into a track. Noise comes in the form of many devices from the days of yore. RC-20 has everything from the hiss of a cassette tape to the crackle of vinyl. Tone works in concert with each type as a tilt control to impact either more of the high or low end of the Noise. Follow mode has the noise work in concert when the signal is active. If left at 0%, the noise stays when the signal stops (although the noise fades when the track is stopped). Duck control hides the noise behind the incoming audio peaks. Additionally, you can use this control for even more movement with a pumping effect.
Wobble
Wobble modulates the pitch of the signal but in a controllable way. Wow is the slower artifact and Flutter is the fast. You can use the slider to get just the right balance of each. Both wow and flutter has an individual Rate control. To add more versatility, a Stereo and Mix can also be incorporated to add a lush chorus to tracks.
Distort
Everyone loves a good "dirt box" and RC-20 has it in spades. On top of a Types selector, a Focus Filter slider will only distort the frequency area you've selected. The Mix knob blends the signal.
Digital
In your youth, you downloaded tracks off of Napster. Don't try to deny it – your HP Pavilion desktop was loaded with "Lincoln Park" songs that took days to download and had a lovely warble at the top end. Ah the early years of MP3's. We can bring that vibe (in a good way) back to your tracks with Digital. Just like the Wobble control, a slider for Rate/Bits Balance will dial in the sample rate and bit depth reduction. If the sound is a bit too harsh, don't worry, we have a Smooth control to ease the edge. Also, we have a Focus Filter to only degrade a specific frequency range. Mix knob does what it always does!
Space
Reverb always helps, especially when chaining effects like what we have in front of this control. Space is a reverb effect with a bit of resonator and has the standard reverb controls like Decay and PreDelay. Focus Filter works just like the other modules to dial in the right resonance and damping. Stereo can widen existing stereo signals and even change a mono to stereo.
Magnetic
Remember when you overplayed that Joey Lawrence cassette tape to the point where it warped and would slightly change pitch? No? "shifts eyes". Well I don't either, but apparently Magnetic does. Using controls like Wear, Flutter can give you the warping of your cassettes and Dropouts can give your tracks the sound of a plugin that you're still using on trial (again, in a good way). Stereo spreads how the wear and dropouts behave in each speaker.
Master Section
To top off the interface, we have global controls at the end of the modules. For easy reference, the Master Section is divided into three controls: IN, EQ, and Out. The IN section has a Gain, to give you that little extra push, especially with Distort and Digital. EQ has the Focus Filter to dial in frequencies. There are also controls for the high and low pass filters with different modes – the low end has a soft cut and hard cut that puts a bit of a bump at the cutoff frequency. The high end has either a soft or hard cut filter as well. For overall finishing, the Tone control consists of two modes: Tilt or Mid. The Tilt mode works in conjunction with the Tone knob just like a tilt EQ. Mid mode has a fixed frequency that can be boosted or cut with the Tone knob. Lastly, the OUT section features a Width and Gain control. The Width goes from full mono to 200% (exaggerated) width and everything in between.
What I Like
If you're looking for vibe, you've come to the right place. RC-20 spans the gamut of effects from subtle to all out bedlam. The controls are laid out perfectly straight-forward and the interactive nature of the interface is very inviting. I like how the icons above each module's control move and change to show different parameter changes. The color-coded modules make finding the sound you're looking for quick.
As far as sounds, each control on their own sound great, but combining them adds a whole new layer of magic. Some of these effects combinations create textures I never even thought of. Throw in the master section and things get even more interesting. I love very subtly mixing crazy combinations as much as I like completely destroying audio.
What I'd Like to See
While RC-20 has six modules already, I found myself wanting one more. A Tape Delay would round this set out masterfully. I also wanted the Wobble and Magnetic to be tempo synced. I think some rhythmic modulation would be an added secret weapon to producers who use the side chain effect in EDM. Lastly, a Soft-Clip Limiter would be the icing on the top of the cake. You could push the input even further and still be able to maintain a useable signal.
Conclusion
You can't go wrong with RC-20. Just like with XLN Audio's other creative brainchild XO this plugin is a home run. Old sounds are new again, new sounds are even more new, everyone wins with RC-20.
So head over the Splice and start renting-to-own this incredible tool.
Affiliate