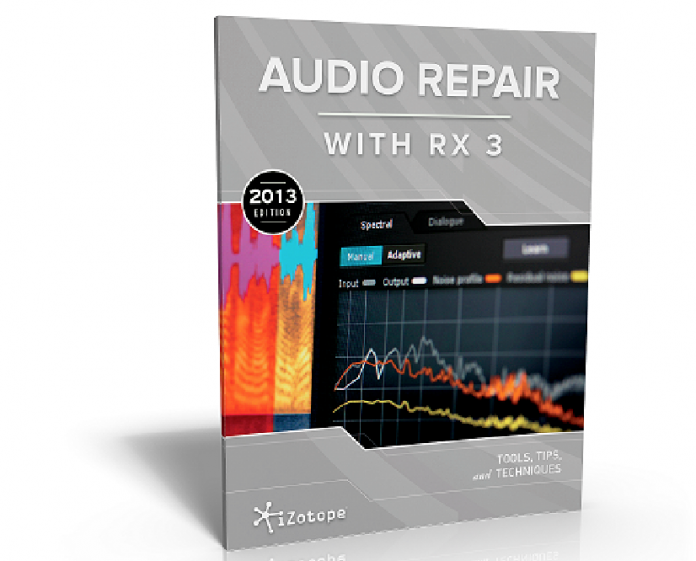 iZotope RX 3 is a very powerful program that covers a wide array of  uses and sometimes a manual just isn't enough to cover all of the in-depth uses and applications. iZotope has seen this and has released a guide for advanced uses for this groundbreaking program. Did I mention is was FREEEEEE?
iZotope Inc., a leading audio technology company, announced the release of its new digital guide entitled Audio Repair with RX 3: Tools, Tips, and Techniques. The reference guide, available free of charge in the iTunes store and through iZotope's website, provides invaluable information for audio editors repairing or restoring audio.
Audio Repair with RX 3 outlines the most common types of audio problems in recordings and covers the fundamental concepts of audio repair, while providing helpful tips from professionals for salvaging previously unusable audio. Geared toward helping users approach audio restoration based on their specific goals, readers can navigate through a wealth of tips and techniques from professionals including Emmy award-winning sound mixer Bill Jackson, Pro Tools Expert deputy editor Mike Thornton, and others.
For RX 3 users, audio repair techniques using iZotope's new RX 3 audio restoration software are also included as subtopics throughout the guide.

Key Features:

Through the 100+ pages of the guide, readers are provided with valuable information on how to:
Identify the basics of audio repair and restoration, and understand the tools of the trade.

Learn the use of a spectrogram to identify audio problems.

Expand efficiency in denoising, including reducing broadband noise, hum and tonal noise, and dialog denoising.

Removing intermittent noises and gaps, clicks and pops, clipping, and reverb.

Learn techniques of efficiently exporting and delivering audio.

Discover tips from award-winning industry leaders, including timesaving advice and guidance through specific modules and plug-ins.
Pricing and Links to Download
Audio Repair with RX 3: Tools, Tips and Techniques, is free of charge, and is accessible through PDF by clicking here.
The eBook version can be downloaded via iTunes for iPhone and iPad by clicking here.
Users can also download follow-along audio examples here from the iZotope website.
Affiliate