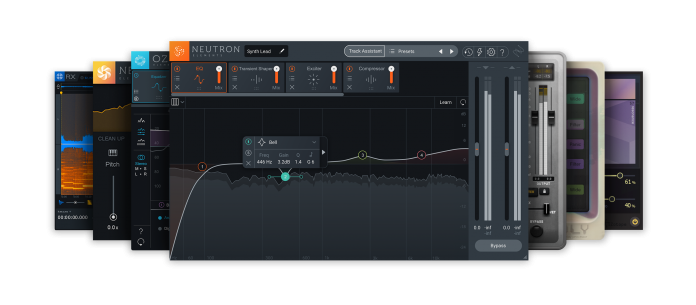 Fresh off of the heels of Neutron 3, iZotope are giving back by literally giving away a huge bundle of plugins. Plus it's for a good cause too. A portion of the
iZotope, Inc., the experts in intelligent audio technology, today launch the iZotope Music Essentials Bundle in celebration of worldwide Make Music Day on June 21st. iZotope is empowering more musicians and inspiring them to create more music with seven powerful plug-ins, at a very accessible price. The plugins included in the bundle are Neutron Elements, RX Elements, Nectar Elements, Ozone Elements, Trash 2, DDLY and Mobius. These seven plug-ins deliver powerful, award-winning audio technologies in one package that contains everything needed to bring audio projects to life. The Music Essentials Bundle will be available through July 8th.

"We're glad to celebrate Make Music Day by giving more people access to these intelligent and powerful tools that help people make music in new ways," says John Bigay, Chief Marketing Officer at iZotope. "We're all about empowering musicians to be creative, and this bundle is a new, low-cost way for music producers to use our technology, plus it supports some important causes at the same time."
As part of the celebration of Make Music Day, a portion of iZotope's proceeds from the Music Essentials Bundle will go to the following progressive and impactful charities that enable and inspire music makers around the world.
Women's Audio Mission – Based in San Francisco, the organization provides hands-on training, work experience, career counseling and job placement to over 2,000 women and girls every year in creative technology for music, radio, film, television and the Internet.
Last Night a DJ Saved my Life – UK registered charity number 1142478, creates fundraising campaigns and initiatives which connect the global dance music community with charitable action in support of children in crisis around the world.
Musicians Without Borders – Based in the Netherlands, the organization will receive a portion of the proceeds to support their programs in Central Eastern Africa, Central America and Europe, which enable musicians to be advocates, activists, teachers, and performers, to connect communities and heal the wounds of war.
Price: $49.00 (valued over $700.00)
Hurry up and grab the bundle, it's a limited time offer.
To purchase, visit https://www.izotope.com/en/products/bundles/music-essentials-bundle.html
About iZotope
At iZotope, we're obsessed with great sound. Our intelligent audio technology helps musicians, music producers, and audio post engineers focus on their craft rather than the tech behind it. We design award-winning software, plug-ins, hardware, and mobile apps powered by the highest quality audio processing, machine learning, and strikingly intuitive interfaces. iZotope: the shortest path from sound to emotion.
Founded in 2001, iZotope is based in Cambridge, Massachusetts. To learn more, visit us at www.izotope.com and connect with us on Facebook, Twitter, and Instagram.
Affiliate