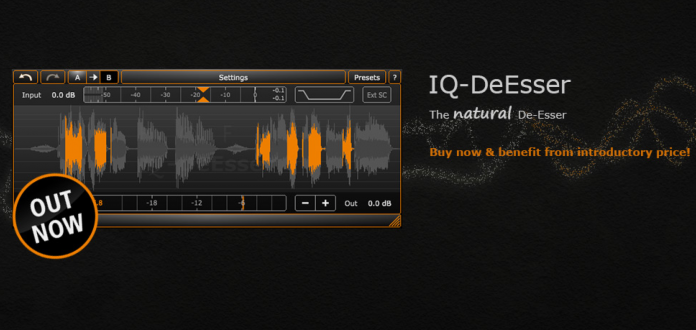 HOFA is the "do it all" company. They offer pretty much any solution from the building the the mixing in a studio. They aren't any slouches when it comes to plugins (see IQ-EQ review HERE). Now they've tackled the toughest part of mixing those harsh voicesssssss with the IQ-DeEsser. This DeEsser automatically detects which type of sibilant is approaching and fixes it, even heavy handedly.
The HOFA IQ-DeEsser is the new tool for editing harsh sibilants in vocals or in the whole mix. With a specialized and very natural working voice recognition the IQ-DeEsser is very easy to use and even more intuitive.
Furthermore, an innovative BUS-Mode can control an adjustable frequency range in extraordinary precision.
All this makes IQ-DeEsser a game changer in mixing and mastering.
The integrated voice recognition is able to control all kinds of sibilants (s, sh, ts, …) completely smooth and effective. The vocal sound remains natural and authentic even with strong reduction.
Besides the 3 modes for editing individual tracks, there is a BUS-Mode which works on a completely different and absolutely novel algorithm:
a high resolution monitoring and processing defuses all occurring frequency peaks simultaneously.

Features: 

HOFA custom-made voice recognition for precise working on unpleasant consonants
4 Modes for different applications:

WIDE – a standard for successful Vocal-Track DeEssing
DARK –  performs miracles on too bright vocals
PEAK – hissing and resonating sibilants are history
BUS – ideal for mixgroups, mastering, stems and unbalanced vocal- & instrumentalsounds

support for Mac and PC, 32- and 64-bit DAWs

HOFA IQ-DeEsser provides for:

intelligent management of high-frequency sounds
decreasing aggressive sounds in vocals, voice, instruments & mixings
natural presentation of fricatives and sibilants
best results combined with easiest handling
Compatibility:
HOFA Plugins work with Windows 7/8/10, Vista and WinXP, as well as Intel-Mac from OS X 10.6.
Audio Unit, VST, VST3, RTAS und AAX, 32 und 64 Bit.
HOFA Plugins are tested constantly on the following DAWs:
Steinberg Cubase/Nuendo/Wavelab, MOTU Digital Performer, Ableton Live, Apple Logic, Magix Samplitude/Sequoia, Avid Pro Tools, Cakewalk Sonar, Presonus Studio One, Cockos Reaper
Price (Introductory): $79 (After Introductory): $99
For more information, visit http://hofa-plugins.de/en/plugins/iq-deesser/
Affiliate