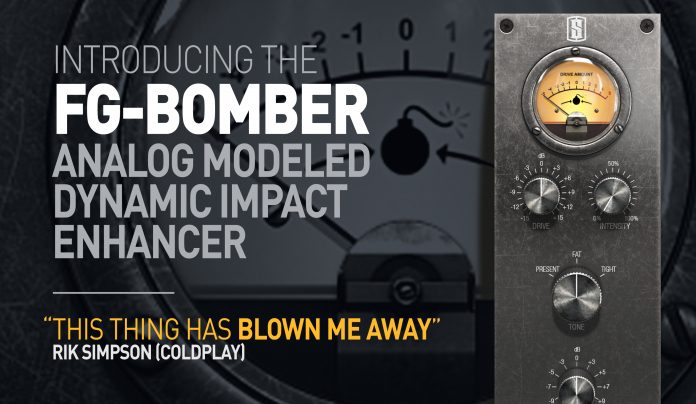 When Slate sends out an email, people read. In case you live under a digital rock, look at this new interesting addition to the Virtual Mix Rack.
Dear Audio Industry Professional,

Like many of you out there, my infatuation with pro audio dates back to when I was just a teenager.  And even back then, I knew in my mind what I wanted my tracks and mixes to sound like.

I wanted them to be impactful, dimensional, wide, and exciting.  I wanted the sounds to come out of the speaker plane and into the room, immersing me in the music.  

Well, about a year or so ago, Fabrice and I began working on a process that could accomplish all of these amazing sonic attributes.  We used all of our analog modeling expertise, creating an extremely complex process that mixes harmonics, saturation, compression, filters, and more.  The result is called FG-BOMBER, and it has been one of the most praised plugins we've ever had by our internal beta team.  

FG-BOMBER is an Analog Modeled Dynamic Impact Enhancer. It will increase impact, front to back depth, and width of your tracks and mixes, and can make your music sound more alive. 
If you are a member of our Mix/Master or Mix/Master/FX Bundles, you can now download FG-BOMBER right from the Gobbler app (Mac Users).  If you are a Windows or Mac 10.7.5 or below user, please click here to download the installers
To get ALL Slate Digital Plugins including FG-Bomber, check out our Annual Plans or Monthly Plans.
If you want to purchase FG-Bomber, Click here. The intro price is only $99 (regular $129).

Affiliate