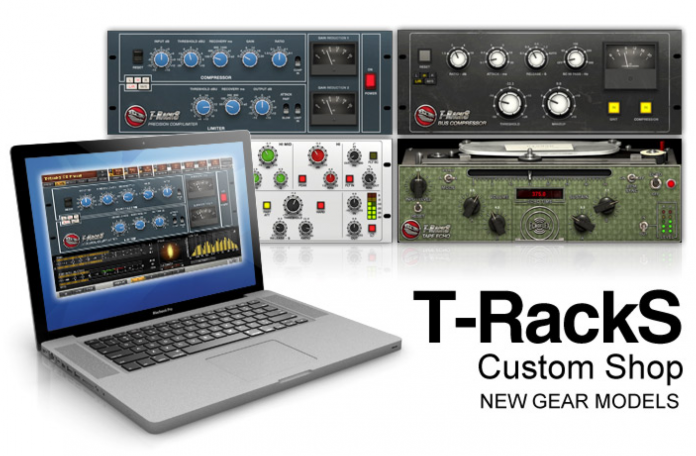 FINALLY, I can breathe a sigh of relief. This was number 3 on my list of plugins I can't live without. T-Racks is now AAX64 compatible! Not only that but they have added new models of gear to the arsenal. Since I've last posted, they've added the Precision limiter, Tape Echo, White Channel, and Bus Compressor. This pretty much makes T-racks the one stop shop for your mixing and mastering needs. I can't wait to get my hands on these in Pro Tools 11!
The new Precision Compressor/Limiter, modeled after a classic British dynamic processor is now available in the T-RackS Custom Shop. The Precision Compressor/Limiter is based on a classic 1970s solid-state compressor/limiter unit that's been the "must-have" compressor/limiter in studios worldwide for over 40 years. The Precision model imparts a warm "fat and thick" sonic character, but isn't overly aggressive, even at higher compression ratios. The result is a very transparent yet musical sound that doesn't lose focus or detail, and is perfectly suited for virtually any mastering, post-production or broadcast application.
Watch the overview video.
This new model is available à-la-carte in the new version of T-RackS (version 4.2) through its built-in online Custom Shop — a free download from the IK web site, and the only music-gear shop open 24/7 and providing models of high-end effects gear for mixing and mastering.
T-RackS Custom Shop is a shopping platform that allows you to try and buy individual processors any time from the comfort of their own studio. All T-RackS processors can be demoed for a period of 2 days, and purchased one at a time right from the Custom Shop.
The new version also adds 64- and 32-bit AAX (Avid Audio Extension) compatibility. As a result, T-RackS now integrates seamlessly with the latest versions of Avid Pro Tools®.
The new Precision Compressor/Limiter is available for purchase now in the T-RackS Custom Shop, using Custom Shop gear credits. Gear Credit Packs start as low as $19.99/€15.99* (for 20 credits) and go up incrementally to $499.99/€399.99* (for 1,000 credits).
With Gear Credit Packs, you can purchase the Precision Compressor/Limiter for 100 credits. To commemorate the new module, two popular channel strips, British Channel and White Channel, plus Bus Compressor, which is modeled after a classic British mix-bus processor, are now being sold for 100 credits each.
To access the new processors, existing T-RackS users should download the free upgrade to T-RackS from their user area before launching the Custom Shop.
Affiliate