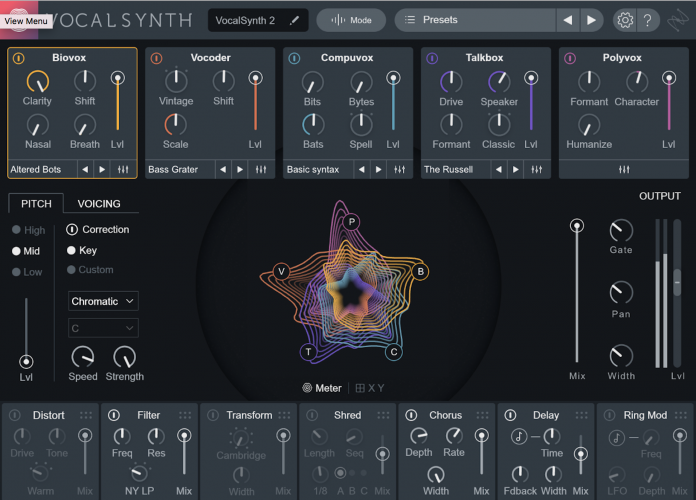 iZotope have been updating various plugins to work with their new centralized system including Masking Meter, Visual Mixer, and Tonal Balance Control. Vocal Synth seems to be the next in line with Vocal Synth 2, complete with added bells and whistles. (See reviews for Neutron 2 Advanced and Ozone 8 Advanced)
Sneak peek: VocalSynth 2

We've made improvements across the board in VocalSynth 2. We've added a new module, new and improved effects, deeper control and customization for every module, inter-plugin communication capabilities that work with Ozone 8 and Neutron 2, enhanced stereo processing functionality, and optimizations in sound quality and performance.
Here's a sneak peek at a few of the key features coming in the second version.

Biovox

A new module that models the physics and sounds of the human vocal tract. We used scientific modeling of a human vocal tract to develop this brand new module so you can adjust human vocal characteristics like nasality, vowel shapes, and formants for a smooth, textural vocal treatment. Biovox is great for adding character, breathiness, and shape for a little secret something you can't get anywhere else.

A stompbox playground

The effects section of VocalSynth 1 was a fan favorite. In version 2, we've added a much-requested feature: the ability to drag and drop to reorder modules. We've also revamped Shred for a better experience and added two brand new effects: Chorus and Ring Mod: a ring modulator that doubles as a unique tremolo-like effect.

Overall sonic improvements

VocalSynth 1 marked a milestone in vocal production processing: the ability to blend and shape multiple iconic vocal effects in parallel and create something entirely new. Over time, we heard from some users that they wanted deeper control of each module. For version 2, we've focused on improving sound quality and adding deeper control across the plug-in. With the addition of Advanced controls in all modules including including access to Vocoder band controls, per module Oscillator presets, and per module panning and filters, you'll have a new depth of control for a better sound, faster than ever.

Inter-plugin communication

For existing Music Production Suite, O8N2, Ozone 8, or Neutron 2 customers, we've added the ability to see VocalSynth 2 in Neutron 2's Masking Meter and Visual Mixer as well as in Tonal Balance Control. Get a comprehensive view of your production with all inter-plugin communication enabled across these connected iZotope products.
For more information, keep your eyes on https://www.izotope.com