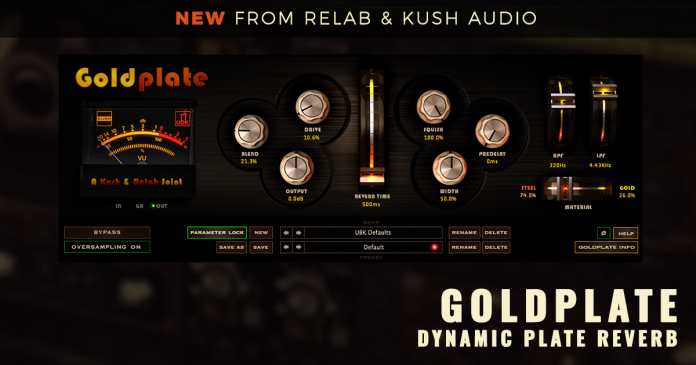 Finally, Kush audio have started tackling reverbs with Goldplate with a little help from the incredible developers at Relab. This isn't your ordinary Plate reverb either. This version adds a spin that only Kush can!
WELCOME TO GOLDPLATE – DYNAMIC PLATE REVERB

Kush & Relab have partnered up, and the world of reverb has officially gone full pimp.

Goldplate marries Relab's gorgeous, silky smooth reverberation tails with Kush's plush harmonic shaping and fat compression curves, tying it all together in a signature ubk interface that would make John Shaft truly proud.

All the basic amenities of a typical reverb are here, but unlike most algorithmic plates, this one sounds equally incredible across the full range of its reverb time. But Goldplate goes far beyond traditional reverb controls, allowing for a  warm distortion of the signal pre-reverb and thick, pumping compression post-reverb.  

If you're among the many engineers who've yet to explore distortions and compression on reverb, Goldplate will be an eye-opener.  By massaging those controls in conjunction with the Time slider, then varying the Filters and Plate Material, a nearly infinite variety of reverberant motion, color, and shape unfolds. 

If you prefer small rooms to plates for shorter brighter spaces, or you think algorithmic plates can't quite match the density and lushness of a 600 pound metal plate driven by tubes, Goldplate is here to change your mind.
For more information, visit https://www.thehouseofkush.com/plugins/goldplate
Price: $149.00 (intro price) $199.00 (regular) or subscribe to the OG Kush Complete Bundle