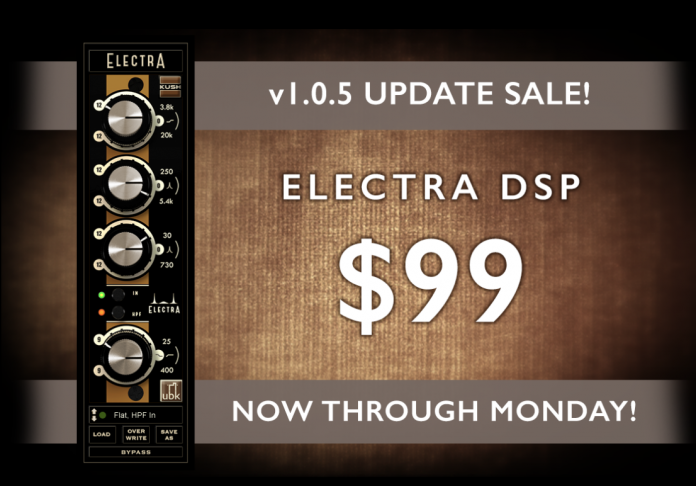 We actually own a pair of Electra 500's (two EVL "evil evaluation" units) and love how no matter how you turn the knobs, everything sounds great. Unfortunately I don't have enough space or money to have a rack full of 32 of them (I can dream) so I use the plugin version a lot (review HERE). The problem is they used to bog a system down if you used a lot. Due to some retooling, the Electra has just updated to use less CPU. Im going to go throw 6 on the mix bus right now in honor of this momentous occasion! Go buy it. It's on sale too. Now lets do the same to the Sly-Fi Axis too because I can't live without its distortion knob.

The latest Electra DSP update uses around 75% fewer CPU cycles than the previous version, while preserving the smooth, punchy tone modeled in-house after Kush's best-selling EQ.
If you don't already own Electra DSP, now's the time: it's on sale for only $99 for one week only! Head to www.thehouseofkush.com/store and spank every last corner of your mix with this incredible eq today!
Affiliate