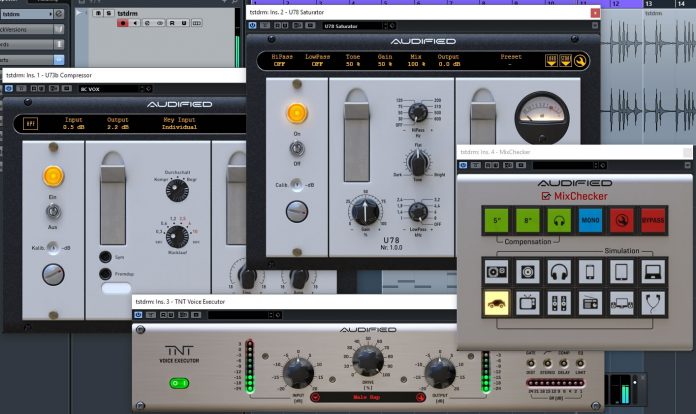 We reviewed the Audified Mix Checker (Review HERE) and found it to be a unique and useful plugin which has even been updated since its release. Audified have created a bundle using some of their most popular plugins for an attractive price.
BOSKOVICE, CZECH REPUBLIC: host application and audio effects developer Audified is proud to announce availability of Studio Bundle — an attractively-priced plug-in bundle of its latest and greatest (TNT Voice Executor, second-generation U73b Compressor, U78 Saturator, and MixChecker) hit releases, rendered as appealing to the eye as they are to the ear for a wide range of production purposes — as of April 18…
Recently released to widespread critical acclaim, TNT Voice Executor is a unique utilitarian plug-in offering no-nonsense processing of vocal and spoken word tracks to sophisticatedly solve any issues instantaneously. It does what it says on the tin, so shaping superb-sounding voices couldn't be simpler. Simply select a preset then use the three knobs to set the INPUT and OUTPUT volumes (using the I/O meters), tweak the DRIVE (effect) amount, and you're good to go! Gathered into four groups, each preset contains several variants for both male and female voices. The right-side of the plug-in's crystal-clear GUI (Graphical User Interface) simply shows which effects (EQ, DRIVE, and DELAY) are engaged and how much gain is being reduced. Really, anyone with a microphone who records vocals and/or spoken word will find it invaluable. Applications? Audio book editing, v-log posts, YouTube videos, podcasts, advertisement voiceovers, television trailers, newscasts… wherever the human voice sounds, TNT Voice Executor makes it sound better in next to no time with a no-nonsense approach to processing par excellence.
Excellence also shines forth from Audified's all-new U73b Compressor, strikingly standing out from its predecessor from the get-go courtesy of a gorgeous GUI that not only makes its improved second-generation status clearer still by blazoning Nr. 2.0.1 below its name but literally leaps out of Retina-supporting screens… well, almost! As such, the GUI itself is effectively a game of two halves, comprising of an almost photo-realistic rendering of the unique-sounding Sixties-vintage German broadcast compressor/limiter hardware (with which the plug-in shares its name and upon on which it is modelled) alongside an area to display numerically editable parameters or menu functions and settings that are not available via the 'modelled module'… making anything sound like it has been processed by an original U73b is the name of the game. Game-changing is the result, though its improvements are more than simply skin deep. Digging deeper, Audified's all- new U73b Compressor now features true side-chaining to control compression via an independent signal; improved processing with added adjustable Oversampling; an automatic gain control option; and -9dB default Kalib. (calibration) setting with an added value mechanism — modelling which works with real voltages that are the same as those found in the original hardware circuitry (related to the dBu scale), but the DSP (Digital Signal Processing) in DAWs (Digital Audio Workstations) works with dBFS (Decibels relative to full scale) so users can (carefully) set the calibration to work within the correct operational range of the compressor effect.
Exploiting meticulous models of the amazing-sounding analogue circuitry central to the U73b — that treasured broadcast compressor/ limiter that found favour in European mastering circles well into the Eighties and beyond — further still, supplementing the tube saturation circuitry with high-pass and lowpass filters and a unique tone filter for some seriously satisfying saturation is fundamental to the U78 Saturator modus operandi. Only this time, removing the U73b Compressor's compression function, favouring filtering for flexibility while keeping the heart and soul of the machine to deliver an amazingly musical tube sound. Studio Bundle brings with it the best of both by including U73b Compressor and U78 Saturator to appease both purists and audio adventurists alike.
And when it comes to making meaningful mix decisions with all that wide-ranging processing par excellence, what better way to round out Studio Bundle than with MixChecker, a must-have mixing assistant plug-in that transforms studio monitors into classic reference monitors or one of several consumer devices to instantly improve mixes. Make-do-and mend-mentality-mixing is a thing of the past with MixChecker, meaning no more time wasted exporting mixes to smartphones or burning CDs to listen in a car before going back into the studio to tweak the mix only to have to repeat the tiresome process time and again. As an altogether more convenient and clever software solution, MixChecker can perform a quick round of tests in only a matter of seconds, allowing users to get on with the task in hand — making mixing corrections at a (key)stroke, still fresh from knowing what the problem in the mix actually was!
Why not treat yourself and your productions, then, to the joys of Studio Bundle? Bet your bottom dollar you'll soon be jumping with joy when it comes to using these really remarkable plug-ins for a really remarkable price!
Affiliate