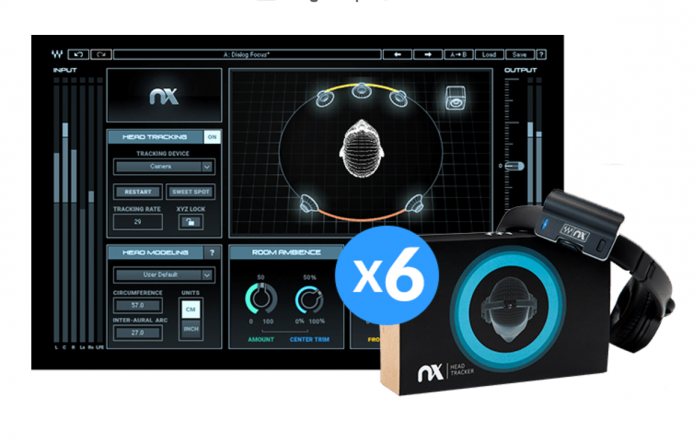 The Waves NX plugin gives a unique viewpoint as a tracking and mixing tool. With the Head Trackers, mixers and performers can move their head within the stereo field. This can enhance performance and mix choices. Now multiple Head Trackers can be used with Nx.
KNOXVILLE, TN, April 19, 2017 — Waves Audio, the world's leading developer of professional audio signal processing technologies, introduces two Nx combos with multiple Nx Head Trackers: the Nx Virtual Mix Room plugin + 6 Nx Head Trackers, and the Nx Head Tracker 5-Pack. These combos enable improved headphone monitoring during recording and mixing sessions with multiple participants.

 

Powered by Waves' groundbreaking Nx technology, Waves Nx Virtual Mix Room is a virtual monitoring plugin that simulates the ideal acoustics of a high-end mix room inside any set of headphones. Nx lets you hear the same natural depth, natural reflections and panoramic stereo image you would be hearing from speakers in an actual room, turning your headphones into a more reliable mixing and monitoring tool by letting you hear everything with real-world dimension, rather than flat in your head. 

 

The Nx plugin has now been updated to work with up to six Nx Head Trackers at the same time. This allows as many as six musicians (or five musicians and one engineer) to hear Nx simultaneously in their headphones while recording. Alternatively, two (or more) mixing engineers can now use Nx to mix together on headphones. 

 

Having the right headphone monitor mix is often what separates an average recording session from a great one. With Nx, recording engineers can provide the musicians with clearer, more open headphone mixes that spread across the full three-dimensional audio spectrum, as if you were listening to monitors in a real room. This provides a better recording experience, as the musicians enjoy a more open, uncongested mix, with greater detail and clarity, and can deliver great performances more easily.

 

When recording vocals in particular, Nx helps the vocalist perform better by reducing the effect of hearing their inner voice, in that it moves the sound from inside the head to the outside – thus staying true to how the singer is used to hearing and perceiving his or her voice in playback. This contributes to an overall more natural vocal performance while also reducing the potential for out-of-tune singing. Also, since vocalists are often not accustomed to hearing themselves through headphones, Nx makes them feel comfortable and helps them to stay in tune.

 

Producer/engineer Russ Long (Dolly Parton, Sixpence None the Richer, Wilco, Chris Tomlin) comments on his experience recording with Waves Nx: "In many instances, headphones are the only element in a tracking session that impede the creative process rather than improve it. Nx changes that completely. It sounds too good to be true. Waves Nx virtually removes the constraints of headphones, allowing musicians and vocalists to reach their full creative and technical potential. It creates a more musical recording experience by allowing the musicians to interact with their instruments and with each other, without feeling any restrictions from headphones. Every musician I've used Nx with, without exception, commented on hearing more detail in regards to their own instrument as well as the other instruments in comparison to other tracking scenarios. In my experience of tracking with Nx, vocalists are able to hear pitch better, bass players are able to hear the air of the bass tone, even when recording direct, and drummers are able to lock with the other musicians better. It's quite amazing."

 

Russ adds, "I used the Nx plugin and Nx Head Tracker with vocalists recording in my studio without telling them what it was. They said it was like taking the headphones off – like they were part of the mix rather than listening to a previously recorded mix – which made it easier for them to sing in tune. In addition, I used Nx in the control room during my tracking session so I could have the same monitoring experience as the musicians. I was surprised that Nx monitoring with headphones was as accurate and sonically pleasing as tracking with a $5000 pair of monitors."

 
Price: $375.00
With more detail and depth than ever on headphones, the Nx combos provide the optimal solution for musicians and engineers looking to improve their recording process.
Affiliate