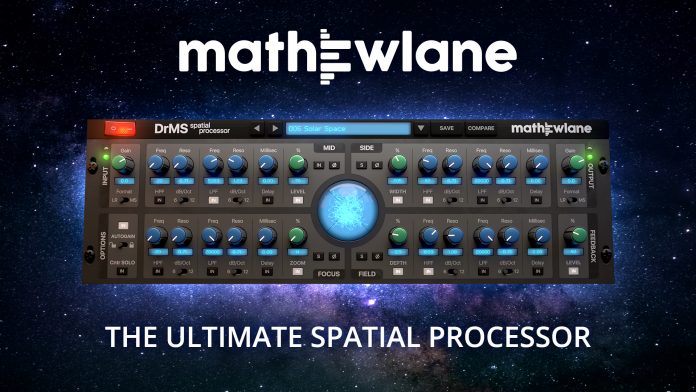 Spatial Processing is a trick used by many professionals to add additional flavor to specific tracks in a mix or to EQ the middle vs the side. Matthew Lane and Plugivery have released Version 5 of DrMs.
Mathew Lane and Plugivery are proud to announce the release of Version 5 of DrMs. It is the latest version of a unique spatial processor, which has a wide range of applications for mixing, mastering and post production.
This plug-in is based on Mathew Lane's extensive mastering experience where Mid/Side processing was used extensively to create new possibilities to enhance the final product. DrMs extends one's comprehension of what's possible with M/S processing beyond the typical tracking and mastering uses. It is aimed at offering the mixer, beat creator, sound designer, and general sonic-manipulator a totally unique effects device.
The DrMS plug-in is based on Mid/Side processing, a powerful way of manipulating stereo signals that grew out of a recording technique patented by Alan Blumlein in the 1930s. DrMs is perhaps the most complex and versatile M/S processing tool on the market.
The plug-in has controls for the Mid, Side, Field, and Focus elements of each adjustable frequency range and contains the following features: level, solo, mute, variable HPF, variable LPF, delay, and polarity reverse. By manipulating the phase, delay and EQ of each of these sections, you have total creative control of the stereo image
Tightening the low end by absolutely centering the bass frequencies or spreading the pad wash to the left/right extremities will give you the same control that mastering engineers have exploited for years to give that special 'magic' that is not available with any other tool. And now with the arrival of the new Version 5, DrMS has even more creativity possibilities to offer.
New in DrMS Version 5 :
Native AAX, AU, VST, VST3 – 32 & 64 bit plug-in for OSX & Windows (RTAS support available via older DrMS v4 using same iLok license).

The new underlying framework ensures compatibility with the latest OS and DAW versions, now and in the future.

Spatial audio processing – Zoom in, add Depth, change Width and more.

Striking fresh new GUI with central phase scope and manual entering of parameter values.

Mastering grade filters.

Resonant HPF, LPF and Delay on each of the four processing sections.

Feedback circuit for reverb creation and special effects.

Full mono compatibility.

Built in preset management system – exchange presets between hosts and platforms.

Presets to help you get started – real world presets designed by Dylan '3D' Dresdow (Black Eyed Peas, Michael Jackson, Prince) and Emre Ramazanoglu (Shakira, Duffy, Alexander McQueen).

Autogain circuit for easy level matched A/B comparision.

Using iLok2 (or higher) USB dongle for easy authorisation.

Pricing and Availability
Version 5 is a FREE upgrade, available to all registered customers of DrMS.
MSRP Price: USD $149.00
Introductory Price: USD $99 (ends September 30th)
DrMS v5 is available from the Mathew Lane website and from Plugivery Distribution's authorised resellers :
http://www.mathewlane.com/DrMS.html