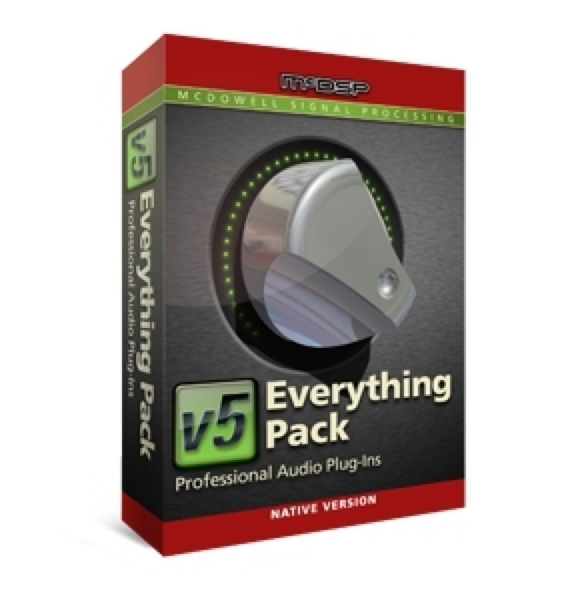 Who doesn't want everything industry leading plugin company McDSP has in its heavy arsenal including the new 3 plugins mentioned in the post below? Now you can with the very aptly titled "Everything Pack." Well… this post pretty much wrote itself didn't it? I'm gonna go mix
For those who need everything, the McDSP Everything Pack is the ticket. The McDSP Everything Pack bundle includes EVERY plug-in from the Emerald, Classic and Retro Pack bundles, and the latest three new plug-ins from McDSP. Equalizers, compressors, virtual tape machines, multi-band dynamic processors, reverbs, de-essers, noise filters, 'futz' tools, and the new 6020 Ultimate EQ, AE400 Active EQ, and SPC2000 Serial / Parallel compressor are all included.
Compatibility
McDSP v5 plug-ins include support for Intel-Mac systems running Mac OS 10.5.x (Leopard), 10.6.x (Snow Leopard), 10.7.x (Lion), and 10.8.x (Mountain Lion). McDSP AAX plug-ins require Pro Tools 10.3.6 or later, or Pro Tools 11.0.1 or later, on Mac OS X 10.7.4 and later versions. Windows support will be released soon.
In addition to Pro Tools, McDSP v5 plug-ins support Logic, Garage Band, Digital Performer, Ableton Live and other AU compatible DAWs. Please note the McDSP v5 release is a paid upgrade for non-v5 customers. Specific pricing can be found by visiting McDSP's online webstore.
For more information visit www.mcdsp.com
Price: Currently $1995.00 at Front End Audio
Affiliate