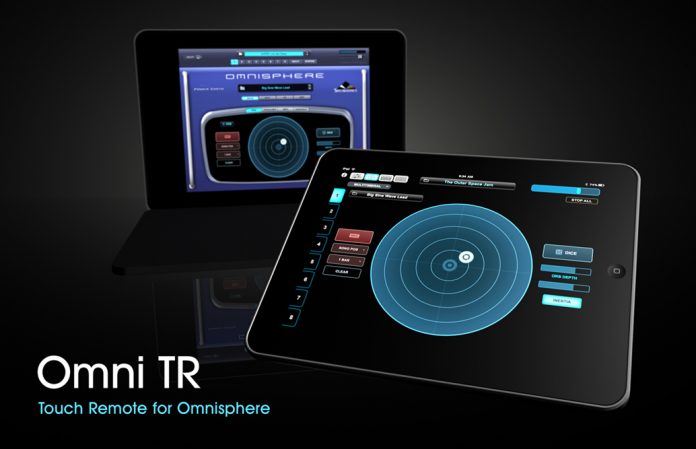 My most sincere apologies for not updating in several days. I was running around like crazy trying to tie up some loose ends before I leave to head out of town. After that I'll be back with gusto, overloading your head with more nonsense than you ever could imagine one could handle. To kick this off, I'm going to show off a great app for iPad. Omnisphere is a groundbreaking synth plug-in that has turned the music industry on it's stupid, auto-tuned head. This app is similar to V-Control in that it utilizes the ipad to control new aspects of the newly updated Omisphere.
Spectrasonics today debuted a new app called "Omni TR" – which turns an iPad into a multi-touch control surface for Omnisphere®. The company's award-winning flagship synthesizer is used by the world's top professional music creators and heard in thousands of hit records, top-selling games, popular television shows and major motion pictures.
'Touch Remote' Concept
The new iPad app introduces Spectrasonics 'TR' (Touch Remote) concept – combining the tactile advantages of the iPad as a performance-oriented touch surface, with the company's powerful computer-based virtual instruments – creating a true hands-on experience for musicians.
Omni TR brings Omnisphere's interactive features closer to the music creation process with the ability to create setups and sound modifications very quickly. The user's fingers can activate patches, tweak filters, re-mix, bend and spin amazing performance possibilities from the innovative new 'Orb' circular controller.
Interface:
With its high contrast interface, 'Omni TR' is perfect onstage for live performance or even in the studio where the iPad sits at the controller keyboard located away from the studio computer. Best of all, the Omni TR app is extremely easy to use, offering full two-way communication with Omnisphere with just a simple wireless connection to the computer running the plug-in.
The new "Omni TR" iPad app is compatible with both Mac and Windows systems running Spectrasonics Omnisphere v1.5 or higher and will be available free from the App Store on February 15th, 2011 (pending Apple's review).