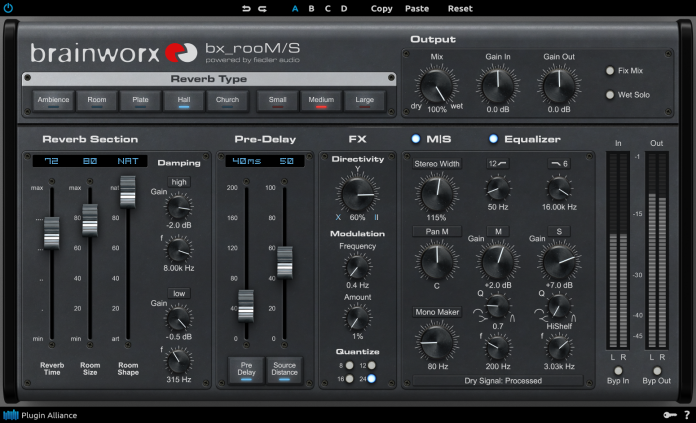 Brainworx cranks out another mid-side plugin that should very easily find it's way on your mix session with bx_rooMS. In order to get insanely detailed spaces, bx turned to Thomas Fielder's TrueSpace Technology. This plugin should be extremely interesting.
Santa Cruz, CA — October 17, 2016 —Plugin Alliance and Brainworx are excited to announce bx_rooMS, a breathtaking mid-side reverb and the next frontier in simulation of acoustic spaces and mechanical plates. Designed using groundbreaking TrueSpace technology developed by spatialization wizard Thomas Fiedler of Fiedler Audio, bx_rooMS produces the most realistic-sounding Room, Hall, Church, Plate and Ambience algorithms available. And in a first for reverb plugins, bx_rooMS' mid-side parametric filtering, panning and width control of the reverb's stereo field gives mix engineers, sound designers, audio post engineers and electronic musicians the ability to shape virtual spaces to fit any music or sound-for-picture application.
Unlike conventional algorithmic reverbs, bx_rooMS doesn't rely on a small number of algorithms to create virtual spaces with different sizes. Instead, its embedded TrueSpace technology produces a continuous gradation of algorithms that recreate a virtually infinite number of room sizes and shapes. Quick Select buttons provide a useful starting point for the desired type of space and its size. The Room Shape slider adjusts the reverb's spatial dimensions to produce sounds ranging from smooth and natural to metallic and artificial. The unique Source Distance control moves the dry signal farther into the virtual room, while the Directivity control adjusts how much each side of a stereo input signal is fed into the opposite reverb channel—critical adjustments for emulating how sound sources actually interact with reverberant spaces in the real world. Modulation controls lend subtle movement to natural ambience or, at extreme settings, produce dive-bombing reverb and other pitch-shifting effects. Other controls adjust all the fundamental parameters you would need for a reverb plugin, including reverb time, room size, pre-delay, and low- and high-frequency damping. The reverb's bit depth can also be progressively lowered to emulate classic reverbs from yesteryear.
Adding to all this power and flexibility is an extensive arsenal of mid-side controls that shape the reverb's soundstage. The Stereo Width control adjusts the soundstage from mono to stereo to super-wide stereo. Brainworx's famous Mono Maker control collapses bass frequencies in the wet signal to the phantom center, adding focus to the reverb's bottom end and clarifying the hard-panned edges of the reverb. The Pan M control can be used to pan the reverb's mid channel to correct a lopsided soundstage or to creatively change the room's virtual geometry—without narrowing the reverb's expansive width. Two bands of Brainworx's ultra-transparent, parametric mid-side equalizers are also included; they can be used on discrete mid and side channels to shape the reverb's spectral balance with surgical precision, sitting the reverb perfectly in even the most complex mix.
Remarkably, the CPU drain from all this high-end processing is extraordinarily low, allowing many instances of bx_rooMS—in both stereo>stereo and mono>mono channel configurations—to be used on track inserts across a mix. And bx-rooMS' intuitive interface refines workflow in innovative ways to get great results quickly and help meet tight deadlines. The wet signal can be soloed to allow more discerning adjustments of reverb parameters. Clicking the Input Bypass button temporarily mutes the reverb's input, assisting evaluation of the reverb tail as it naturally fades out. The Fix Mix control locks the current wet/dry balance as different presets are loaded for audition. Many controls have dedicated bypasses for making instant, easy comparisons.
To celebrate its release, Plugin Alliance is offering bx_rooMS at the introductory promo price of $99—a 50% discount—through October 31, 2016.
Brainworx plugins, as well as all other Plugin Alliance products, are provided in AAX native, VST and AU formats for Mac OS 10.8 or higher and Windows 7 through 10. All Plugin Alliance products are available as fully functional 14-day demos at Plugin-Alliance.com.
Affiliate