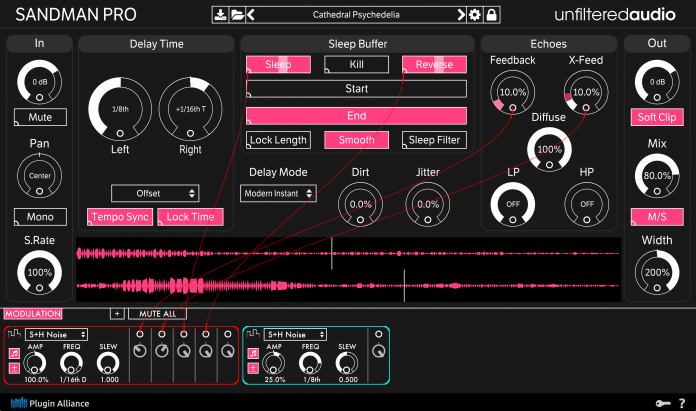 Unfiltered Audio is the king of unique plugins you never knew you needed (see Fault review HERE) and has upgraded one of its flagship plugins. Sandman is a delay / looper plugin like no other, and now its gotten even more unique.
Santa Cruz, CA — October17, 2016 —Continuing their breakneck pace of new plugin releases, Plugin Alliance and Unfiltered Audio announce a major upgrade to the critically acclaimed Sandman delay/looper plugin: Sandman Pro. At once a Swiss army knife of delay effects and a mutating granulator, Sandman Pro delivers to professional audio engineers, electronic-music producers, sound designers and DJs an endless assortment of time-based effects in one intuitive interface. From conventional to wildly experimental effects, Sandman Pro does it all: flanging, phasing, chorus, ping-pong delays, 16-tap delays, automatic double tracking, reverse echoes, reverb, pitch shifting, harmonizing, granular synthesis, percussion resonator, stutter generator, glitch effects and many other effects that defy description. And in a twofold promotion to celebrate Sandman Pro's release, Plugin Alliance is offering bargain upgrade pricing and a freebie.
Seven new delay modes optimize Sandman Pro for a mind-boggling variety of applications. Classic Tape mode adds virtual tape saturation, wow and flutter to traditional delay effects and to unorthodox loops and grains created by Sandman Pro's metamorphosing Sleep (delay) buffer. The artifact-free Multi-Tap mode delivers 16 simultaneous delay lines that can be used to create massive doubling, ensemble and echo effects. The ultra-smooth Reverse mode produces click-free, haunting reverse echoes. And unlike with using other delays, Sandman Pro's delay time can be dramatically modulated—using Modern Instant mode—to morph thick flanging or doubling into long echo trails in real time without producing audible pitch artifacts. The dual-mono Pitch Shifter mode excels at creating ultra-clean vocal harmonies, classic shimmer effects, metallic textures and more, while Glitch Shifter mode adds intriguing instability to pitch-shifted signals for unorthodox effect. DJs will especially appreciate modulating Sandman Pro's Sleep button in No Echo mode to create crazy stutter and glitch effects on the fly. The new Echoes section in Sandman Pro includes a stereo feedback network and a Diffusion control, blending any delay tail you create into thick reverberant pads.
Sandman Pro has also been upgraded to include Unfiltered Audio's flagship modulation system: six freely assignable and fully automatable modulators (sine LFO, sawtooth/triangle LFO, square-wave LFO, input follower, sample-and-hold noise, and macro control knob) can be patched to each and every control via intuitive drag-and-drop patching. Modulating Sandman Pro's frozen Sleep buffer, electronic-music producers and sound designers can build a deep library of unique effects, loops and wavetable grains, while studio engineers can create innovative sounds that keep their mixes ahead of the pack. DJs and musicians can use the modulation system's macro knob to simultaneously control multiple parameters in multi-effects presets, surprising and captivating audiences with outrageous song transitions during their live set.
In a nutshell, it's extreme versatility that sets Sandman Pro apart from competing products. Capable of creating any and all delay-based effects—and never-before-heard sounds that transform mixes, FX tracks for film and live performances—Sandman Pro is unlike anything else currently available.
To celebrate Sandman Pro's release, Plugin Alliance is offering two great promotions through Oct. 31: Sandman owners can upgrade to Sandman Pro for only $29 (slashing nearly 70% off Sandman Pro's already remarkably low price of $99), and first-time Sandman Pro buyers also get the streamlined Sandman for free.
Unfiltered Audio plugins, as well as all other Plugin Alliance products, are provided in AAX native, VST and AU formats for Mac OS 10.8 or higher and Windows 7 through 10. All Plugin Alliance products are available as fully functional 14-day demos at Plugin-Alliance.com.
Affiliate