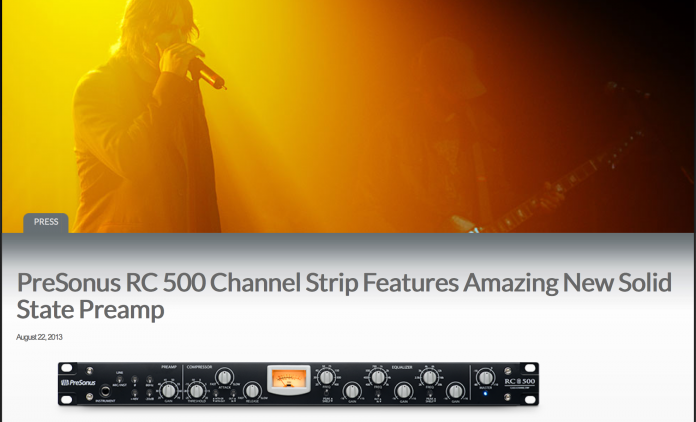 Presonus has really been amping their game up (unintentional pun but it stays) in the hardware and software department. Their Studio Live Series is becoming a staple among both portable and permanent installations. Then the ADL came out and made some serious waves. Now Robert Creel, the guy who is behind many of Presonus' flagship hardware has his namesake incorporated into the new RC 500 Channel strip. The RC500 is a solid state preamp with FET compression as well as 3 band EQ. This unit incorporates circuits found in the ADL 700 but with a solid state front end. This allows a little more top end and transient response for today's demanding users who need a one stop shop for all types of applications.
PreSonus® today unveiled the RC 500, a top-of-the-line channel strip for professional recording engineers and recording musicians. The RC 500 combines an ultra-low-distortion, high-gain, solid-state Class A preamplifier with the same custom-designed FET compressor and semi-parametric EQ circuitry found in the highly lauded PreSonus ADL 700 tube channel strip. The result is consistent, transparent, detailed audio, suitable for a wide variety of applications, and reminiscent of classic, vintage solid-state preamp designs.
The newest member of the PreSonus family of preamps/processors, the RC 500 was designed by PreSonus engineering ace Robert Creel (hence, "RC"), who also designed the PreSonus XMAX™ preamp, the ADL 700, and many other favoite PreSonus analog circuits. For some time, the PreSonus offices have buzzed with rumors that Creel was working on an amazing and very special solid-state preamp; happily, the rumors were true!
Creel's new microphone preamp features a Class A hybrid input stage with discrete transistors and the latest-generation, low-distortion operational amplifiers. The design maintains the sonic qualities of Class A and benefits from the repeatability in performance of the operational amplifier.
Compared to a tube preamp, this solid-state preamp offers better definition at the edges of its frequency response range. High frequencies are crisper and low frequencies are tighter, producing a transparent, musical signal that retains the "airiness" of a room and provides a more three-dimensional result than a tube mic preamp can deliver.
Of course, the preamp sports 48V phantom power, polarity invert, and a -20 dB pad. In addition, it includes a 12 dB/octave highpass filter set at 80 Hz.
The RC 500's FET compressor perfectly complements the new solid-state preamp. Controls include fully variable attack (0.5 to 10 ms), release (30 to 500 ms), and threshold (-25 to +20 dBu), as well as hardware bypass. Ratio is fixed at 3:1.
FET (Field-Effect Transistor) compressors use transistors to emulate a triode-tube sound. This type of compressor generally provides a faster attack time and better repeatability than the optical compressors that are more commonly found in channel strips in this price class. Combined with the consistent repeatability of the RC 500's solid-state preamp, this is sure to make the new channel strip a favorite in pro studios.
The 3-band semi-parametric EQ was designed with musicality in mind, combining isolated filters and optimized, per-band Q to provide subtler signal shaping without harsh artifacts. All bands have Gain (±16 dB) and Frequency controls, with overlapping frequency ranges between the mid and high bands and fixed Q (0.5). The low and high bands are switchable between shelving and peak.
Both the Compressor and EQ sections feature a relay bypass.
Rear-panel XLR mic and line inputs (with front-panel Input Select switch) and a front-panel ¼" TS instrument input accept a variety of sound sources. Dual-mode analog VU metering enables monitoring of output and gain-reduction levels. A master level control adjusts the overall output from -80 to +10 dB.
I really really really want to try this thing out against a few pieces of gear in my setup.
Shipping in September
Price: $999.00
For more info, visit www.presonus.com
Affiliate