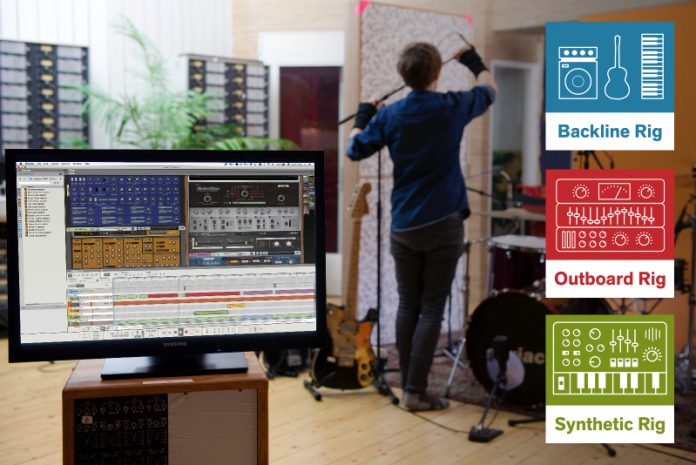 Propellerhead has released some new bundles targeted for different types of musicians. You get a more acoustic sounding bundle, a more electronic bundle and a huge effects bundle. This is almost as good as being able to use your own VST plugins.
Stockholm, Sweden, March 18, 2015 (ictw) – Propellerhead Software today announce three new Rig bundles for Reason 8. Expand your rack with hand-picked bundles of the top instruments, effects, and sample packs, made by leading developers such as Propellerhead, iZotope, Softube, Korg, Rob Papen, and more. Each bundle is designed specifically for the style of music you make and contains over $750 of Rack Extensions and ReFills for the unbeatable price of $199 each.
The new Rig series collection include:
Backline Rig: Beef up your instrument collection with the Backline Rig bundle! Aimed at songwriters looking for playable, organic-sounding instruments and effects, the Backline Rig comes packed with guitars, electric bass, vintage keyboards, drums, and vintage effect units, all at a fantastic price.

Synthetic Rig: Add an outstanding collection of electronic instruments and effects to your Reason Rack. Tailored for electronic music producers, the Synthetic Rig bundle comes with a variety of synths, beatboxes and effects from leading Rack Extensions developers.

Outboard Rig: Perfect your mixes with this super-priced collection of outboard FX gear! With the Outboard Rig bundle, you get a fantastic collection of high quality studio outboard effect Rack Extensions from leading developers.

Pricing and availability
All bundles are available as a direct download from Propellerhead's website for USD $199 / EUR €159.
Reason 8 is available as a direct download from Propellerhead's website or from an authorized dealer.
Affiliate