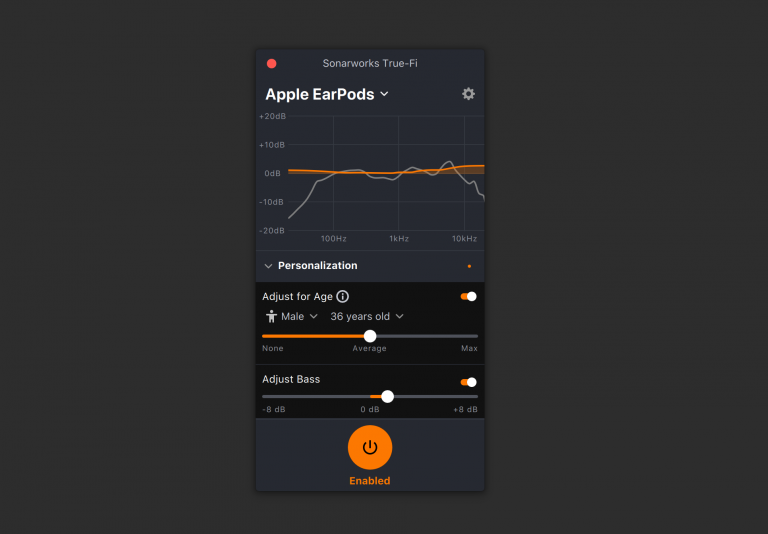 True-Fi Rundown
Pros
- Easy to use interface
- Transforms stock earbuds where nuances not possible before can be heard
- Custom Tailored settings to account for age and listening preferences
Cons
- Needs profile for stock laptop speakers
- Mobile version needs more support (still in beta)

Summary
Whether you are in the business or just a fan of hearing music in its truest form, True-Fi has your back. Immediately turn average headphones into audiophile quality with a click of a mouse or tap of a screen.
In our last review of Reference 4 Studio, we dove into the technical, mixing side of Sonarworks. This was only half of the groundbreaking company's business strategy. The other half is in the business of bridging the gap between the professional and the consumer.
It never ceases to amaze me that so much care is put into mixing a song perfectly, only to literally fall on deaf ears. I don't mean deaf in the sense that people aren't listening – I mean deaf as in listening on a pair of earbuds that came with your phone. It's the audio equivalent to looking at a Rembrandt through a dirty broken window. You're going to miss a lot.
True-Fi removes the blinders from your ears. Just like photographers use software to make pictures appear beyond life like, True-Fi does the same to audio. The software re-routes audio from your computer's sound card and supercharges your existing headphones, breathing new life into tracks. The installer comes in Windows and Mac versions with an open beta for iOS and Android released.
The result is headphones that immediately sound immensely better. Operation is simple – in the desktop version, install True-Fi, select your model of headphones or earbuds, age, and start listening to anything. The program handles the output of your sound card to apply the enhanced profile of your headphones. It even compensates for natural loss in frequencies due to age. The option to dial in these enhancements is done with a slider – just slide until to sounds like you want it. Bass can be tailored to taste as well.
The mobile version operates slightly different due to how audio is routed on mobile operating systems. This routing makes options more limited than the desktop version. With the desktop app, any application within the operating system can utilize True-Fi. The mobile version has to run exclusively through the app. As it stands, only audio stored on your phone or through Spotify is supported. The operation of the software is exactly like the desktop version. That's seriously all there is to it. So how does it sound?
It is impossible to truly express how much better True-Fi makes headphones sound. For the review, I used a few pairs of headphones and the results were the same for each. The most impressive feat was with a stock pair of EarPods. True-Fi took an overall cheap, generic earbud and made it sound like a pair of high-end headphones. The highs are crisper, the bass is deeper and tighter and all is right with the world. It honestly has to be heard to be believed.
I could hear nuances of music that even my stock pair of Beyerdynamic DT770s didn't pick up. Then I added the profile to those and was even more blown away. I've used different EQ curves on headphones using the settings on the iTunes app, but this is a whole different monster. Switching back to the stock profile feels like you've been listening through a tin can tied to a string. You can't go back… which brings me to my gripes.
The only improvement on the desktop app I'd like to see is a profile for my stock speakers. The newer MacBook Pro speakers don't sound too bad but I'd love to see what Sonarworks can do to them.
Since the mobile app is in beta, I'm sure the app will evolve over time. My wish list for this app would either be a way to tap into the master output or at least support your standard audio apps like Apple Music, SiriusXM, Pandora, Podcast Apps, and Youtube. Other than the compatibility, the mobile app works great.
In conclusion, I know this review is short but that is a testament to two things: the interface is extremely straight-forward and easy to use, and also, I'm finding it hard to explain just how much better music sounds through this program. It truly has to be heard to be believed. If Sonarworks offered this as an upgrade for my actual ears, I'd be first in line. Until then, the app will do, but I will say, as long as there are headphones in my ears, True-Fi will be running with them.