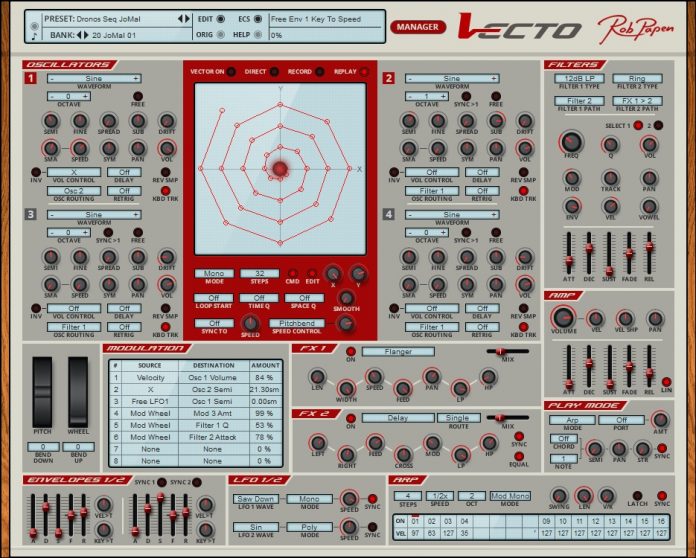 By popular demand, virtual instrument and effect plug-in developer Rob Papen Inspiration Soundware is proud to announce availability of an AAX-, AU-, and VST-compatible version of Vecto — previously only available as a Rack Extension (RE) for Swedish innovative music software applications, interfaces, and technology standards company Propellerhead Software's revolutionary Reason — as a 32- and 64-bit Virtual Instrument (VI) synthesizer plug-in for Mac (OS X 10.8 – MacOS 10.14) and Windows (Vista, 7, 8, and 10), as of February 19…
Rob Papen's popular Vecto was originally created as an RE for Propellerhead's proprietary Reason platform back in 2015. However, Rob Papen has since received many requests asking if this product could also be made available for other platforms, as attested to by Rob Papen himself: "By popular demand, we've now also created it as a VST, AudioUnit, and AAX version."

Never let it be said that Rob Papen does not collectively listen to feedback from its valued customers! Clearly, the company believes in adding value to its products. "From the start, it already has over 1,000 presets," reveals Rob Papen, before adding: "It's a great synthesizer for ambient music, pad sounds, and synthesizer sounds, but the good news is that Vecto is also part of the eXplorer 5 bundle."
But what, exactly, is Vecto, then? The name gives the musical game away. As a four-oscillator vector synthesizer that allows users to draw in vector paths to shape the sound in many different ways, its OSCILLATORS include a wide range of options, working with sampled waveforms and many MODULATION routings, plus preset vector paths to help create Vecto's unique sound!

After releasing QUAD, we decided to make more use of the X/Y pad, which appears in a lot of other Rob Papen AAX-, AU-, and VST-compatible VI synthesizers, such as Blade, BLUE-II, and RAW," reasoned Rob Papen at the time of Vecto's original RE-only release — albeit also remaining relevant to today's AAX-, AU-, and VST-compatible version. "The change in sound between the four oscillators offers a lot of sound options in itself, including drawing the movement between them, as well as preset movements and additional features like time quantise [TIME Q] and space quantise [SPACE Q]. In fact, all movements are tempo-based and they can also be changed dynamically."


Due in no small part to those wide-ranging waveforms — from classic analogue modelled ones through to additive, spectrum, and high-quality samples, Vecto's sound options are dazzlingly deep! Two FILTERS are available with 28 filter types between them, while two top-tier effect processors bring the audio signal path to its creative conclusion with aplomb. As affirmed, Vecto boasts countless creative features, including an arpeggiator (ARP).


While words, of course, can capably paint pictures, a picture paints a thousand words, after all. But better still, Rob Papen himself capably talked through some of those 1,000 presets that this latest Vecto version comes complete with during a recent YouTube live stream, starting with Soundtrack Cream from the Pads BANK: "It's actually one of my wife's wine glasses from upstairs with a finger being rubbed around its rim, combined with a hiss-like vocal. Another new one from the Pads BANK is called Glimmer Vox; it uses twoOSCILLATORS and no FILTERS at all — so it's also very CPU-friendly, then it goes to FX 1, which is a Phaser, and then Delay, while the pitch bend can be used to increase the speed of the Phaser and the modulation wheel can be used to make the attack slower."


Saying all that, it surely stands to reason that this all-new AAX-, AU-, and VST-compatible version of Vecto will make for a sound designer's dream synth when it comes to working with whatever DAW (Digital Audio Workstation) its user might musically favour. Furthermore, by also adding Vecto to the latest download of Rob Papen's all-encompassing bundle, Rob Papen's latest VI synthesizer is effectively available for free to owners of eXplorer 5!

Vecto can be purchased in a boxed edition — as an AAX (32-/64-bit), AU (32-/64-bit), VST (32-/64-bit) compatible VI synthesizer plug-in for Mac (OS X 10.8 – MacOS 10.14) and Windows (Vista, 7, 8, and 10) — from authorised Rob Papen dealers worldwide or as a download directly from Rob Papen for an introductory promo price of €79.00 EUR (including VAT)/$79.00 USD until the end of February 2019 — rising thereafter to €99.00 EUR (including VAT)/$99.00 USD — from here: https://www.robpapen.com/Vecto-vst-buy.html

Note that Vecto is included in the latest version of the eXplorer 5 bundle, while owners of the original RE version of Vecto can crossgrade to the AAX-, AU-, and VST-compatible version of Vecto for a 50% discount by sending a copy of the purchase receipt to: [email protected]
For more in-depth information, please visit the dedicated Vecto webpage here: https://www.robpapen.com/Vecto-vst.html
Watch Rob Papen's introductory video for Vecto here: https://youtu.be/MWHVer5dtXk

Feast your 'eyes' on some stunning Vecto presets here: https://youtu.be/ACqL5KsLB7k
Affiliate