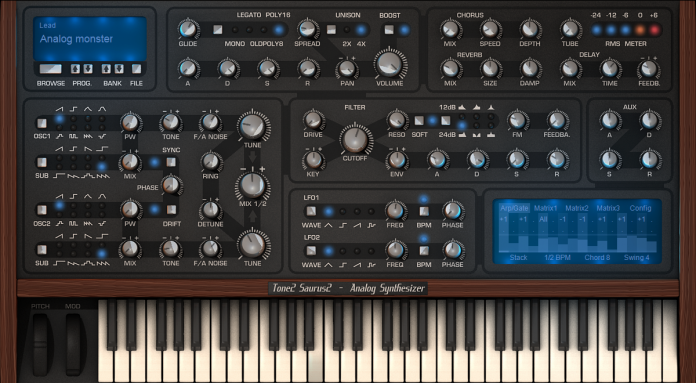 Tone2 Saurus has been a favorite at Everything Recording (review here) and Tone2 has released version 2 with quite a few upgrades.
Saurus2 can do an extremely authentic emulation of analog synthesizers.  It covers all important aspects of the most famous and expensive analog synths, but without adopting the disadvantages.
Saurus2 is very easy to use and comes with a comfortable interface. It offers a larger sonic range,  a more precise analog emulation and a more flexibe synthesis engine than competing products. Saurus2 offers high-end sound quality, but without placing heavy demands on your CPU or budget. Finally true analog sound does not longer require compromises!

Authentic emulation of analog synths: True Analog Modeling Technology ™
Covers all important aspects of analog synthesizers, but without adopting the disadvantages
High-end sound quality
Replaces a large number of expensive analog synthesizers
Low CPU and high reliability
Great value for money
Free personal support and updates
Comfortable and easy-to-use interface
Larger sonic range than competing products
Flexibility, expandability
Ships with 830 outstanding presets from 22 top sound designers
Can create unique sounds which no other synthesizer can do
Analog filter with self-oscillation, FM and feedback
Very fast LFOs and punchy envelopes
Powerful arpeggiator
Many different play modes: Mono, legato, glide, poly, stack, autochord
4x stereo unison
High-end quality effects section
Analog modeled distortion and tube amp
Developed by experts with 25 years of experience

What's new in Saurus2? Details:
New features:

Added a comfortable patch browser with a keyboard which can be opened by clicking 'BROWSE'.
Added a 'Config' menu which allows to set the degree of analog behavior.
Additional LowCut equalizer.
Additional HighCut equalizer.
Added a new play mode 'Stack' which plays the autochord defined in 'Arp Key Mode'.
14 additional 'Sine' LFOs as matrix source.
4 additional chord modes which play thirds for the arpeggiator.
The patches can be ranked by clicking on the stars in the patch browser.
Keyboard can be hidden with 'Config->hide keyboard'.
The degree of analog noise modeling can be selected between 'none' and 'extreme'.
The degree of analog drift can be selected between 'light' and 'extreme'.
Added a smart microtuning algorithm. 'Fat tune' delivers more harmonic and transparent chords.
The degree of analog saturation can be selected between 'linear' and 'extreme'.
The degree of analog OSCs damping can be selected between 'light damp' and 'heavy'.
An analog sounding default patch can be initialized with 'File->Init analog patch'.
A digital sounding default patch can be initialized with 'File->Init digital patch'.
Modwheel and pitchwheel are auto-assigned on patch initialisation.

Enhanced sound:

The OSCs and filters can emulate the noise created by analog circuits.
The OSCs can emulate the saturation of analog amplifiers.
The voices and filters can emulate drift and voice detuning.
Replaced oscillators with more 'analog' sounding ones.
Boost mode sounds more 'analog' and smooth.
Replaced Reverb with a better sounding algorithm.
More accurate high frequencies of 'Delay' and 'PingPong' effect.
More 'analog' behavior of 'drift'.

Enhanced GUI & interface:

Information about the current patch is shown in 'info' tab of the patch browser.
Rendering with ambient occlusion for a more realistic look.
More comfortable saving of patches on PC.
LCD displays have more contrast and are more easy to read.
Keyboard is now animated.
Added mouseover support: Values are displayed when mouse is hovered over them.
Mousewheel support (if host supports it).
Mac version now also supports waveform selection by clicking on diodes.

Further enhancements and changes:
Better host compatibility.

A large number of small enhancements.

More robustness.

More comfortable installer.

Less demo restrictions. Patches can be initialized. Extended demo timeout.
Price: €99, $119
System requirements:
PC: Windows XP / ME / 7 / 8 / 10 / Vista  (32 bit or 64 bit)
Mac: Mac OSX 10.5 or higher; PowerPC, G4, G5 or Intel Mac (32 or 64 bit)
PC formats: 32-bit VSTi, 64-bit VSTi, 32 bit standalone, 64-bit standalone
Mac formats: 32-bit VSTi, 64-bit VSTi, 32-bit Audiounit, 64-bit Audiounit; Universal Binary
For more info about Saurus2 visit our webpage:
https://www.tone2.com