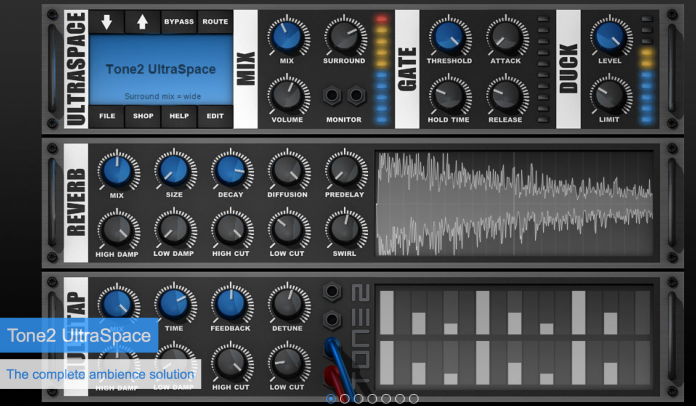 Tone2 is definitely becoming a force to reckon with. Their Virtual Instruments are top notch and contain a great deal of useful effects contained within. Now they are offering an expanded version of the reverb contained in their soft synths with Ultra Space.
TONE2 Audiosoftware release UltraSpace

UltraSpace is the complete ambience-modeling solution. It can simulate nearly any kind of room, echo or acoustic environment with high-end sound quality.

UltraSpace is far more than just another reverb – it's a complete compilation of different effect units covering all important aspects of space simulation. By combining these units, completely new and unique effects can be created.

How does it sound?

Our DSP experts have analyzed the esoteric algorithms of the most popular and expensive hardware units. With many sophisticated experiments, we were able to design an effect suite that unifies the advantages of these legendary devices.

Because of its modular design and its flexibility, it covers a huge sonic range. UltraSpace offers a harmonic, crystal-clear, and lush sound which always sits well in the mix. Because a demo song cannot show the dynamic expression and huge sonic range that UltraSpace provides, we recommend that you download the free demo to hear UltraSpace for yourself!

Highlights

– One compact plugin as an all-in-one solution for everything related to ambient simulation.

– Replacement for a large number of very expensive hardware units.

– Modules can be combined to create new and unique effects, not possible with competing products. Make your tracks stand out in the crowd!

– Huge sonic range, and usable for a large number of applications.

– Higher sound quality than competing products. Effect algorithms designed by DSP experts with 20 years of programming experience.

– Excellent value for money.

– 150 inspiring patches created by professionals give you instant access to the right sound to quickly enhance your mixes.

– Visual real-time displays and tooltips make it very easy to use.

– Low CPU demand and multicore CPU support.

Reverb

The smooth yet lively reverb module offers pristine sound quality and has everything you need to add lush space to your productions. This flexible, easy to use unit can simulate nearly any kind of room: From tiny to giant, from dark to bright, from cold to warm.

With a simple knob turn you can create your own ambiences. No matter what settings you apply, it nearly always sounds good, even with extreme parameters like the simulation of infinitely large spaces. The randomize function can create an unlimited number of environments, with a simple mouse click. A display visualizes in real-time what you are doing. This makes it easy to understand what you are currently tweaking.

Multitap

The powerful multitap unit adds groove to your mix. This flexible stereo effect is useful for a large number of applications, with thick multitap delays, filtered echoes, complex rhythmic sequences, huge ambient soundscapes, custom textures, infinite loops or even fat ensembles.

The smart unit never loses the beat, since it automatically synchronizes with the host's BPM rate.

This makes it?'s easy and amusing to create your own custom grooves.

Mixing

UltraSpace is an efficient professional production tool, since it always fits right in the mix. Several smart algorithms and filters can clean up your mix automatically and remove uncomfortable-sounding garbage.

The surround module can be used for stereo widening or Dolby Pro Logic -compatible encoding. It enhances your mix with more three-dimensionality since the effects will appear from outside of the stereo field or play back from the rear speakers.

The innovative 'duck' module helps to make the mix sound more transparent and lush. It dynamically adjusts the volume of the effect-mix and prevents delays clashing with the original signal. It keeps the transients and important portions of the melodies clean by attenuating the effect in real time.

The integrated gate module can be used to fatten drums with 'gated reverb', for noise reduction, or to cut long reverb tails for a cleaner mix.

UltraSpace can be used as an insert or as a send effect. This offers the possibility to route several tracks, that need the same acoustic treatment, through UltraSpace, while reducing the low CPU demand even more.

The flexible routing allows a combination of the different effect modules and provides nearly unlimited creative potential: Gated reverb for drums, ensembles with echo, ducking delays, rhythmic reverbs, giant ambient textures, shuffled drum rolls, noise reduction, surround spaces, or completely new effects.
Price: $79.00
For more info please visit the product page:
https://www.tone2.com/html/ultraspace.html
Affiliate