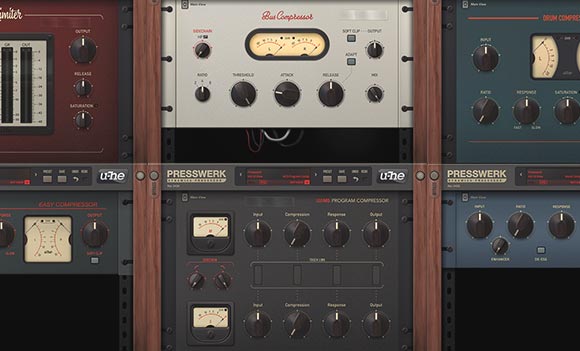 U-he has a very forward thinking approach to compression and version 1.1 of Presswerk shows this. The new interface's view can change based on the application. This means that if you are wanting to use Presswerk as a bus compressor, there is a special interface for that. Very innovative!
Earlier this month at the Frankfurt Musikmesse we presented a new beta version of Presswerk 1.1 to visitors. After returning to Berlin, we added the final touches and fixed a few outstanding minor bugs. The result is now ready to be shared with everyone, so…
We are happy to announce the release of Presswerk version 1.1 for Mac OSX and Windows (in case you didn't know, Presswerk is our powerful dynamics processor with a musical soul).
The main focus of the 1.1 release is the introduction of the six special 'Views' — dedicated, streamlined versions of the interface to help you focus on a specific task and speed up your workflow:

Drum Compressor
Vocal Compressor
M/S Program Compressor
Easy Compressor
Bus Compressor
Limiter


Presswerk 1.1 also has a new preferences window where global options can be stored, and a MIDI learn screen to simplify MIDI mapping.
Version 1.1 is a free update for current owners of Presswerk – simply download and install over your existing installation!
Price: $129.00
For more information, visit http://www.u-he.com/cms/presswerk