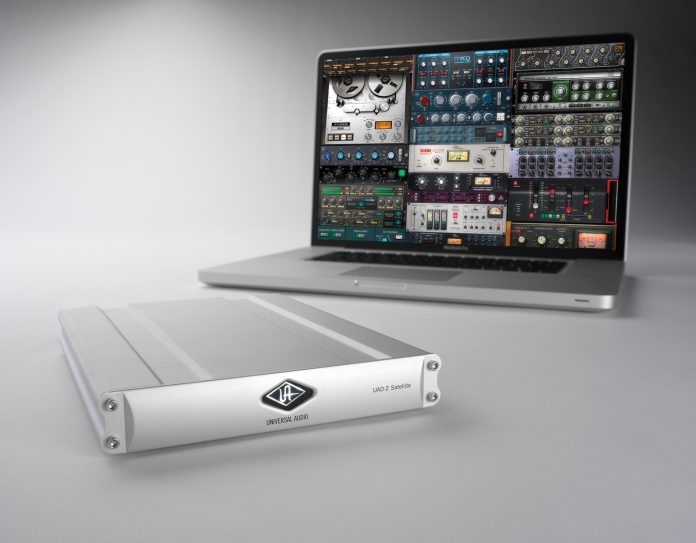 Universal Audio is starting to catch on to something Avid should take note of, Portability. I'm sure there are plenty of people like myself who would like to run Pro Tools HD from a laptop. Well the UAD-2 Satellite takes that concept and uses it to fuel their plug-in bundles with Firewire (given you use mac, which I'm sure most of you do.) For all of the people who are either newcomers to recording or people who read this for my nonsense, the concept behind this is companies can make more powerful software if they add a piece of hardware to handle the processing of said software. Most companies only make the software for desktop computers but a few smart companies are catering to the home studio or portable rig. See people, you can laugh and learn at the same time, but not in school because the teacher will yell at you and question your fashion sense. Look, Mrs Rodriquez, grunge was in and it wasn't a dress, it was a flannel shirt tied around my waist. Ok is was a blouse BUT in my defense my mom and dad's closet was the same.
UA's First-Ever Firewire 800/400 DSP Accelerators Provide
Plug-and-Play Access to
Award-Winning UAD Powered Plug-Ins on Wide Range of Mac Computers
Universal Audio
(UA), a leading manufacturer of professional audio recording products,
today announced the impending release of UAD-2 Satellite DUO and QUAD
Firewire DSP Accelerator Packages. As the newest members of UA's
award-winning UAD-2 Powered Plug-Ins platform, the UAD-2 Satellite
family combines DSP acceleration with the plug-and-play simplicity of
Firewire 800/400 — perfect for modern, Intel-based iMacs and MacBook
Pros.

The UAD-2 Satellite puts the entire UAD Powered Plug-Ins library
within easy reach of Firewire 800 and 400-equipped computers; no PCIe
card installation required. In developing these UAD plug-ins, UA's DSP
engineers work with leading hardware manufacturers — including Roland,
Neve, Studer, dbx, Solid State Logic, Lexicon, Manley, Empirical Labs,
Trident, SPL, EMT and more  — using their exact schematics, golden
units, and experienced ears. This gives computer-based musicians and
engineers the warmth and harmonics of classic analog recordings,
wherever they mix.
Available in DUO or QUAD processor format (with either two or four
Analog Devices SHARC processors, respectively), UAD-2 Satellite
packages provide a processing "boost" for digital audio workstations,
and include a selection of classic analog emulation plug-ins, right
out of the box.
Notable UAD-2 Satellite features include:
•    Access the UAD Powered Plug-Ins library on select Firewire 800 and
400 equipped computers
•    Compatible with a wide range of modern Intel-based iMacs and MacBook Pros
•    Run larger mixes in Pro Tools, Logic, Cubase, Nuendo, Performer and
more — without taxing host computer CPU
•    5 models to choose from: DUO (Core); DUO Flexi (w/ $500 Plug-In
Voucher); QUAD (Core), QUAD Flexi (w/ $500 Plug-In Voucher), and QUAD
Omni v.5.7 (w/ 50 UAD plug-ins)
The complete line of UAD-2 Satellite DSP Accelerators is slated for a
Q1 2011 release with prices starting at $899 MAPP USD.
For the latest release information on the UAD-2 Satellite, visit UA's website.
Affiliate