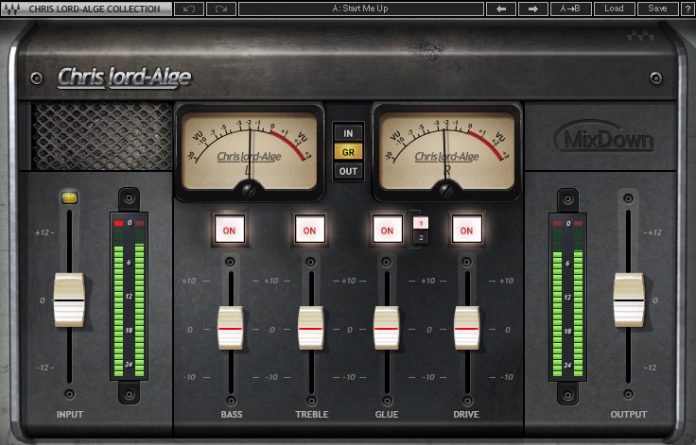 Continuing on the CLA line of easy-to-use plugins, the MixDown Plugin is the perfect one-stop shop for your stereo mix bus. This plugin features EQ, Saturation, and Compression.
Waves Audio, a leading provider of digital signal processing solutions, is now shipping the CLA MixDown plugin, the ultimate mix buss plugin, developed together with GRAMMY®-winning mix engineer Chris Lord-Alge (Green Day, Bruce Springsteen, Keith Urban, Muse). 
For over 30 years, Chris Lord-Alge has been the mixer of choice for rock royalty, from Aerosmith to U2, Foo Fighters to Muse. One of the secrets to his signature sound have been his unique punchy, smooth, in-your-face mix buss chains – and now these chains are available to users, in this all-in-one CLA MixDown plugin. 
Lord-Alge comments, "I perfected my mix buss chains over many years and 20,000 mixes. I've taken my two favorite chains and put them under the hood of this simple-to-use, supercharged champion of a plugin. CLA MixDown features two flavors of my mix buss compression sound, plus console overdrive and a finishing EQ with perfect bass and treble curves." 
He adds, "You can use CLA MixDown on your master channel, or you can use it the CLA way – on a master aux. You can add it after you finish mixing to secure your mix with that finishing touch, but I recommend you insert it before you start mixing, and then mix 'through' the plugin, which will help you tailor your mix and get the best sound. Either way, it will dramatically enhance your overall mix and save you precious time toward getting that final mixing touch!" 
CLA MixDown features:
Simple-to-use mix buss plugin for finalizing and enriching your mixes

Created in collaboration with GRAMMY-winning mixer Chris Lord-Alge

Four faders for enhancing the color, dynamics and drive of your mix

Bass fader: Controls the richness of the mix

Treble fader: Increases or decreases high-frequency presence

Glue: Two flavors of compression for holding the mix together

Drive: Analog console overdrive for increasing harmonic distortion 
Price: $99 (Regular) $29 (Introductory)
To learn more, visit http://www.waves.com/plugins/cla-mixdown.  
Affiliate