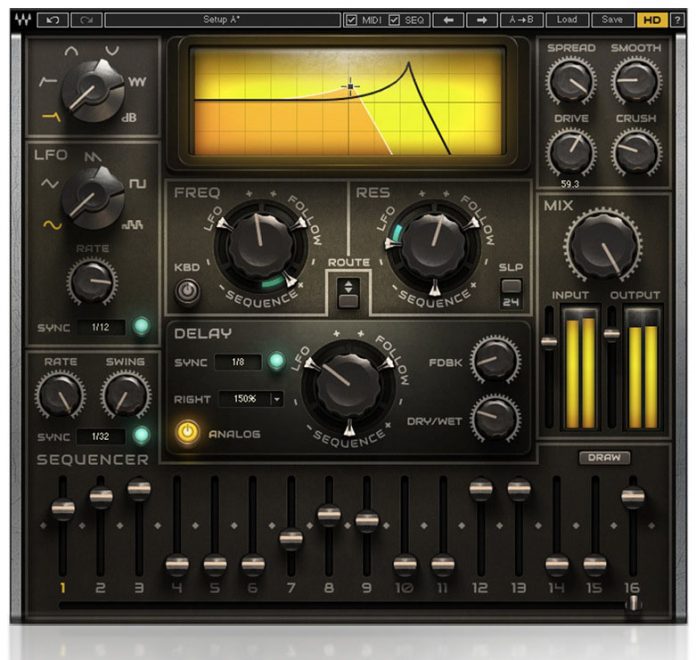 Unless you've been under a rock for the past few years, you have heard filters used heavily in pop, EDM, and hip hop. One up and coming rap producer has pretty much built his career on using filters heavily to build on certain parts of songs. Of course we have all heard the filter sweeps used in electronic and techno back in the days and having one more way of making the process easier is always a good thing.
Waves Audio (booth 6824) has unveiled its MetaFilter plugin, a versatile sound-shaping filter. Designed around a modulatable multimode filter using Waves' proprietary Virtual Voltage technology, Waves MetaFilter has everything users need in a sound-shaping filter plugin. The versatile MetaFilter creative effects unit provides all the warmth, depth and fatness of classic analog filters, with the modern control and endless flexibility that uniquely characterize Waves tools.
MetaFilter lets users individually modulate the filter cutoff, resonance and delay time using three separate modulators – 16-step sequencer, LFO and Envelope follower – which make it easy to achieve effects such as filter sweeping, tremolo, auto-wah, rhythmic gating, ducking and hypnotic modulating delays with saturation buildups.
With intuitive controls that are inviting and enjoyable to use, MetaFilter allows users to effortlessly customize and program their own presets, and due to its easy-to-use MIDI Learn capabilities, the plugin can be controlled from any MIDI control device, perfect for live DJ performances. Moreover, when connected to a MIDI keyboard it can actually be utilized for playing the filter cutoff.
Whether it's used for creating rhythmic loops and tracks from sound bites, adding a subtle effect to a guitar part, or simply mangling a vocal track just for the fun of it, the endless possibilities and versatility of the MetaFilter make it an essential tool for creating and producing innovative, eccentric and cutting-edge music, in the studio and on stage.
MetaFilter features:
Three separate modulators: 16-step sequencer, LFO and Envelope follower

"Fat" analog sound quality

Intuitive MIDI Learn

Fully modulatable analog delay

Powered by Virtual Voltage technology

Endless sound-shaping possibilities
Waves MetaFilter is now available with U.S. MSRP's of Native $200 and SoundGrid® $299. Both are now available at special introductory pricing of $99 (Native) and $149 (SoundGrid). Visit www.waves.com for more information.
Affiliate