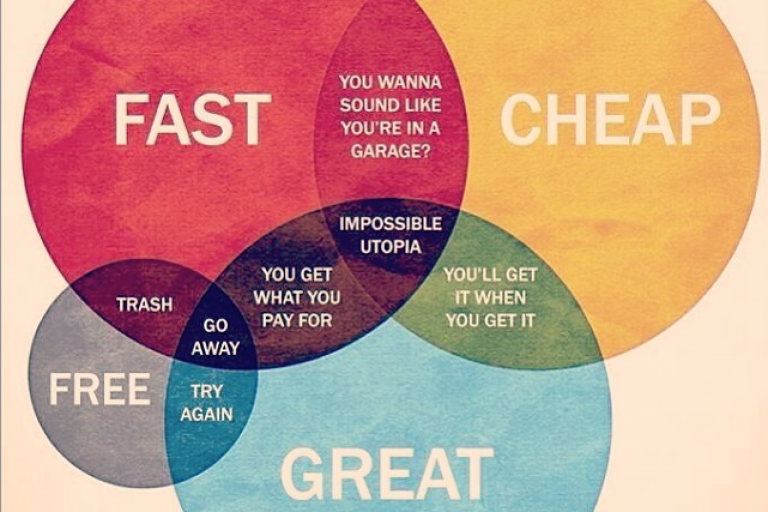 "There are no mixing rock stars."
This sentence resonates an attitude that is slowly falling by the wayside amid a vast landscape of social media and reality TV. It seems that everyone nowadays is performing to whatever crowd of friends, followers, and strangers… trying to be noticed and become the next big thing. Although this attitude is needed in most fields of the entertainment world, being an audio engineer requires a contradictory outlook. This can be a tough road for someone going into mixing with the wrong expectations.
F. Reid Shippen went into audio engineering simply because he liked doing it. "I just fell into it honestly. Engineering, that is, and then gravitated towards mixing after I discovered a talent for it." After college, instead of following the path of least resistance and taking a day job, he set out straight for the music industry.
After landing an assistant engineer job and later offering a 100% refund if a client wasn't happy with his mix, his career in mixing began. "I've always done this ever since I decided in college that I'd rather be interested than secure, anyway. I almost didn't graduate school because I was working and interning and all that. This has never been a hobby."
Combining his work ethic and the fact that working in the studio was his means of putting food on the table, he began to make a name in the industry; but even when you talk to him about all of the bigger projects, you see very quickly that he approaches every track with the same attention to detail and quality, A-list or not. "I don't know that there's any 'establishing one's self' really. I believe in doing really great work all the time, for whomever. I don't keep track of whose name is recognizable."
In a fast paced, competitive industry, certainly it would be easy to get lost in being attached to the next big project especially once you have worked with artist like Switchfoot, Johnny Lang, and Eric Church; but he reflects that some of the projects that have had neither success or album sales have been the most enjoyable and rewarding.
If you spend any amount of time interacting with Shippen, you will quickly see a straight forward, to the point guy who is very down to earth. Through the spoils of success, he remains grounded and approachable, keeping the same New Jersey sharp wit despite moving to Nashville. Even though he has been taking on major label clients with name recognition, he still mixes indie projects and tries to realistically work within the confines of an artist's budget.  "I've done it for very little, if I believe in the artist.  If you're good at something, never do it for free – great advice I got one time from Joe Chiccarelli. That said, I 've been very fortunate in this field, and I like to pay it forward as much as I can. Anyone who has a sweet house on the ocean or whatever can feel free to ask- bartering is a good thing."
This pay-it-forward attitude carries over into his help to the less experienced in recording and mixing (such as myself). I was invited to join a recording group on a popular social media site and was very surprised to see his name come across frequently, giving advice to everyone from the budding engineer to the professional with a creative issue. He addressed each with no judgment and genuine concern, giving sage advice without overcomplicating the issue. I was blown away when I saw a Grammy award-winning engineer taking time out of his probably hectic schedule to give advice; but as I saw these interactions, I began to see a correlation with his mixing style… straight forward and to the point without overcomplicating the issue.
If you've listened to any of the songs in which he's sat behind the console, you will hear the same no nonsense, direct approach that reflects his personality – an approach that brings out the artist's best features and vision without all of the unnecessary filler. Even in situations where a song isn't exactly his cup of tea he finds a way. "It doesn't matter if I hate it. Any song is some one's best effort, or heartbreak, or chance to communicate. I'm not here to judge, I'm here to see that their vision comes through. Mixing is a service industry. There are no mixing rock stars."
There is a realism that comes in being able to separate how you feel about a song you are mixing. One has to be as objective as possible and see the track through the lack of personal connection to the source material.  Sometimes the genre of the source material can even pose obstacles.
Early in his career he found his way into Contemporary Christian Music, a genre that sometimes catches flack for being too plain and made strides in improving the way the music represented itself. When asked if there are pitfalls to certain genres and his philosophy on Contemporary Christian Music, he simply says: "There's homogenization everywhere. I've been doing a lot less CCM and a lot more pop and country, and it's there too… Music, food, fashion: commodification is a human tendency. At the core of CCM is the fact that you're writing/singing/communicating about God. That's no small thing. It should be amazing and emotional, just as much as, or even more so, than all songs should be. I go for the emotion, always."
In going for the emotion, one can't rely on any one way of doing things; the listener doesn't care whether it's in the box or on a console. They just want to feel the track. The Mix Engineer in all of us wants to find the magic recipe for a Shippen mix, but when prodded for an answer on his percentage of using outboard gear to plugins he really put things into perspective. He says, "I suck at math. I have no idea how to calculate that. Plus, why would you? Who cares? If an outboard box sounds right, I use that. If a plug sounds right, I use that. I'm just fortunate that I have access to both." 
Flexibility is definitely key in a day and age where you have access to a myriad of digital and analog tools that many spend countless hours trying to argue the proper application of each. "I treat them both the same,"he says,"I turn knobs until it sounds good. In my experience, there's tons of good plugs, the UA stuff is particularly killer as regards the "emulation-type" stuff; but it's not the same thing. Thank God- that would be totally boring."
Variety is  the spice of life and F. Reid Shippen has acquired a great arsenal in the rack. In 2009, he built a personal studio where most of his mixes are conducted and at the helm is every engineer's dream, a very unique SSL 4000 console. "Yah, it's killer", he adds,"One of the best ones I've ever worked on sonically. It has some strange mods that shouldn't make sense but they sound killer." 
He also has a great collection of some of the hallowed pieces of gear from yesteryear and today, even some equipped with mods suited to fit his style. "My partner in Atomic Instrument, Norman Druce, is a gear modification Yoda. We've gotten into some crazy EQ curve and impedance stuff with the RETRO gear. Almost all my tube gear is modded by a guy named Arthur Sloatman at Midget Electronics who's a mad genius. And I have some Toby Foster tube mics. He's the best." When asked if he has ever modded a piece of gear and ruined it he simply answered, "Nope, thankfully! Well maybe one… I'm not telling which one."
But the gear doesn't define the man. Sure it's great to have some of the best gear at your disposal, but technique is just as important. Versatility is the name of the game and there is pretty much no genre that F. Reid Shippen hasn't mixed. He accepts all types of projects with the attitude of stagnation being the enemy. While someone of his caliber of mixing could have his run of just about any project, he will take the good with the bad. When asked if he has ever received a project he has deemed "unmixable" he adds, "Yes, and it got sent back. However, that's very rare. We can fix a lot of the heinous stuff. That's why I love analog gear- it's great for audio triage."
But what is his secret? What does he do that sets him apart? There has to be some sort of formula or secret to being a 9-time Grammy award-winning mixer. After an assault of technical questions (believe me, I tried to ask the question every way I could possibly think) the answer comes out. "Well, the real secret is that there aren't as many tricks as everyone thinks. For example- I asked my friend Gary Paczosa how he gets the amazing sounds on the Allison Krauss stuff. He says, "Well, you start with Allison Krauss, and Dan Tymanski, and Jerry Douglas… and you don't get in the way." What people forget is that they're comparing their everyday to someone else's highlight reel, and a lot of the time, that highlight reel has world-class players, songs, studios, gear and time. I don't have any secrets. Just a lot of practice of what NOT to do!"
And on that answer I realized something. Something that at first was a relief, then momentarily turned to disappointment, but strangely ended inspirational and hopeful. Sometimes the answer is staring you right in the face. It just takes a realist, with insane work ethic and the right outlook to convey it. The real (but cliche) question is how much of your effort involves practicing what not to do?
F. Reid Shippen is a multiple Grammy award-winning engineer who also produces and is involved in artist development. He is a partner in Atomic Instrument, a company that builds better power sources for large consoles as well as tools for tracking and mixing. He lives in Nashville Tennessee and mixes out of his personal studio Robot Lemon, which runs exclusively on espresso and highly evolved analog gear.
For more info, keep an eye out for his site to relaunch http://www.RobotLemon.com
For more info on Atomic Instrument, visit  http://www.AtomicInstrument.com
Affiliate