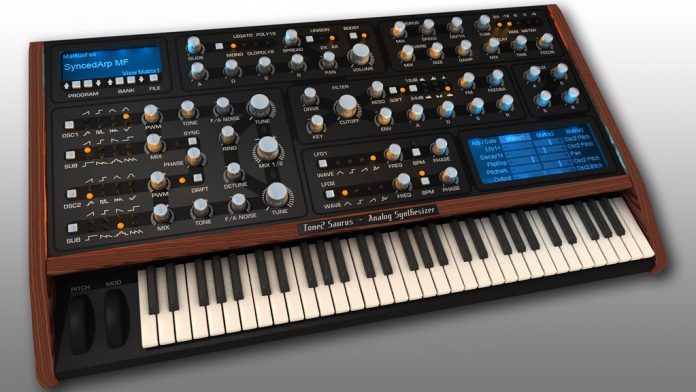 Tone2 has done some great work with their entire line of software synths. Your proof is right here and here in the reviews we've posted. Now they're pushing the limits a little further by using their own technology in modeling to recreate classic synths from the days of good ole analog.
Exploring Saurus' True Analog capabilities the Synth Legends soundset takes you into the depths
of aged circuitry, modular setups and authentic analog, delivering 200 classic synth patches.
An inspiring collection of vintage instruments, Synth Legends perfectly mirrors the unique character
of analog hardware, replacing popular analog synths like the Moog, Oberheim,  Prophet 5, Korg MS20
and the Arp Odyssey.

Gritty basses, weaving arpeggios, expressive pads, screaming synths, dirty leads and vibrant brass,
providing you with all the sonic flavors of the analog era.

Highlights

* 200 presets by professional sounddesigners.
* Comfortable installation.
* Perfect integration into the user interface.
* Many patches can be 'morphed' using the modwheel.

Perfect for many genres, such as Old School Electronica, Soundtrack, Ambient, Techno, House, Funk,
Synth Pop and a wide variety of other music genres.
Price: $49.00
For more info please visit the Synth Legends product page: http://tone2.com/html/synth%20legends.html