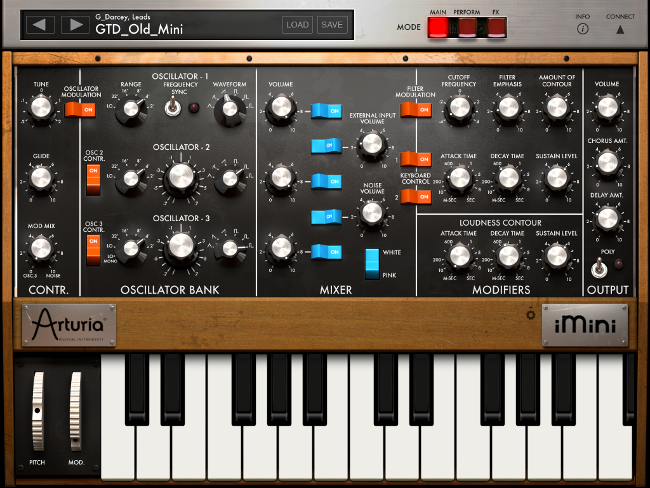 I'll post the update simply because you CANNOT beat the sound that comes out of Arturia's synths. They just can't be beat. Their standalone functionality seems to be rock solid as well but put this plugin into Pro Tools and you have a disaster. I really hope they make an AAX version of Analog Laboratory or I probably won't make the switchover to HD11. It's THAT important of a plugin for me. Well anyways, I'm still not sold on the whole "iPad as an instrument" thing. I use mine to control Pro Tools remotely with Neyrinck, but that's as far as I goes.
iMini is based on the TAE® (True Analog Emulation) synthesis technology found in Arturia's award-winning Mini V soft synth, meticulously modelling the distinctive tones and analogue nuances of the legendary Seventies-vintage Minimoog Model D monosynth. Moog changed the musical world with the Minimoog and Arturia helped change the music software world with the Mini V.
Arturia now brings the still-sought-after classic Minimoog sound to the musical masses, transforming any iPad mini, iPad 2, or iPad with Retina display into the ultimate analogue synth emulation! Those timeless three oscillators and that 24dB per octave fabled filter are all present and accounted for in iMini. It also successfully sports the look and feel of Dr Bob Moog's namesake iconic synthesizer for all to see (and hear). But being a game-changing iPad app for 2013 and not an analogue synth design dating back to 1970 means there's a whole lot more to iMini than first meets the eye…
IMINI FEATURES
Realistic recreation of the classic Minimoog™ sound.

Hundreds of sounds created by the top sound designers in the world.

Preset compatibility with Arturia Mini V software.

Core MIDI support

Including MIDI controller mapping.

WIST sync with other iPAD/Iphone devices.

High quality sound based on our TAE™ analog modeling technology.

Tabletop Ready iOS application for a complete electronic music studio.
Price: $9.99
For more info, Click HERE.