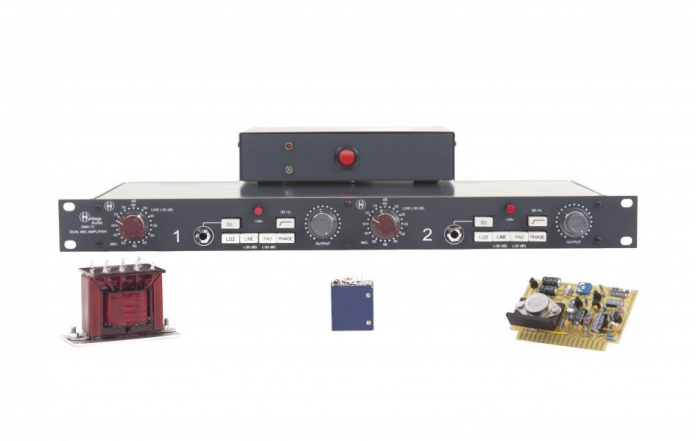 Would you look at what my friend Bryce from Warm Audio showed me. This is Heritage Audio, a company out of Europe that makes these gorgeous looking vintage inspired units. This is their first 19″ endeavor. These guys definitely have the vintage look and I'm sure given Bryce's seal of approval, they sound the part as well. Look out Vintech and BAE, you have a new competitor in the ring. This two channel version is actually competitively priced too!
Heritage Audio announces the new DMA73 dual microphone amplifier and it´s the company´s first product in 19″ format.
DMA 73 FEATURES
• 80dB Class A Microphone preamplifier, HI-LO selectable minimum input impedance, balanced and floating. High gain positions show a higher impedance, ideal for old ribbon mics.
• 50dB Class A Line preamplifier, bridging input impedance, balanced and floating.
• All discrete Class A Ultra High Impedance J-Fet Direct Input on a high quality Neutrik Jack. The DI circuit is ahead of the Mic Input transformer, so the transformer is on when in DI mode.
• Class A single ended, 2N3055 driven, high headroom B283 output stage.
• Individual Neutrik gold plated XLR connectors for microphone and line inputs.
• Gold Plated Neutrik XLR output.
• PAD: 20dB Mic input attenuation ahead of the input transformer to avoid overloading it.
• HI PASS FILTER: Active all discrete Class A 3rd order Bessel, 80Hz Hi Pass Filter. 18dB/octave slope.
• OUTPUT control to allow overloading of the preamp.
• External linear PSU to avoid electromagnetic radiation into the audio transformers ( a.k.a. hum ).
• Carnhill Input and Output transformers.
• 3 gain stage, genuine B283 gain card modular construction.
• Marconi style knobs and vintage style engraved pushbuttons.
This product is already shipping.
Price: $2199.00
To purchase, click HERE
Affiliate