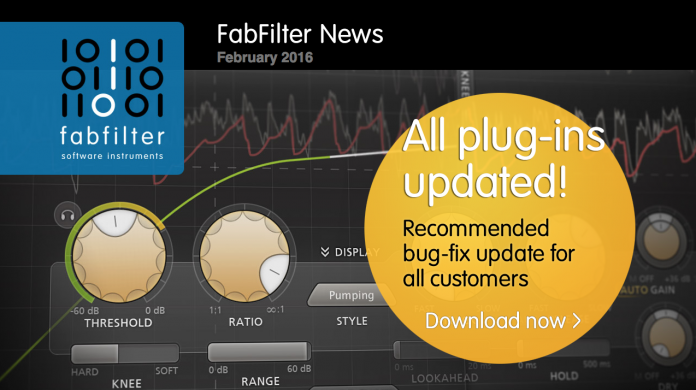 FabFilter has updated their whole lineup of great plugins to correct many bug fixes. If you'd like to see some reviews on a few FabFilter plugins, click on the links below.
FabFilter Saturn
FabFilter Pro-Q2
FabFilter Pro-C2
All plug-ins updated

We have just released minor updates for all plug-ins, which solve a few issues that have surfaced after the last update release in December 2015:

Restored support for Windows XP in all plug-ins.
Added a workaround for a bug in Logic's AU validation tool on OS X 10.6 up to 10.8 that could cause Logic to fail to recognize our AU plug-ins.
Enabled High DPI support on Windows versions prior to Windows 8.1.
Fixed a bug in the VST3 versions of all plug-ins that could cause a crash in FL Studio and possibly other hosts after removing a plug-in from a session or closing a session.
Fixed possible dropouts in the real-time level display in Pro-L, Pro-C 2, Pro-DS and Pro-G when using a large host buffer size such as 4096.
Fixed a bug in the AAX and RTAS versions of Pro-C 2 that prevented the Wet Gain and Dry Gain parameters to be available for mapping by Pro Tools.
Fixed a bug in FabFilter One that caused it to reject a range of valid presets written by earlier versions of the plug-in.
Fixed a bug in FabFilter Pro-C 2 that could cause the side chain EQ Mid band to stay enabled, even while the whole Side Chain section was disabled.
Fixed a bug that caused a very small DC offset in the output of FabFilter Micro, Simplon, Volcano 2 and Timeless 2.
Fixed a bug in our AAX plug-ins that caused version 2 plug-ins (like Pro-Q 2 or Volcano 2) to show up as '2' in Mini track view in Pro Tools.
The FabFilter Pro-DS OS X installer now includes the mono VST2 version again, which accidentally had been left out in the previous version.
Various small bug fixes.

This is of course a free update for existing users, and we recommend everyone to upgrade to the latest plug-in versions.
For more information, visit http://www.FabFilter.com