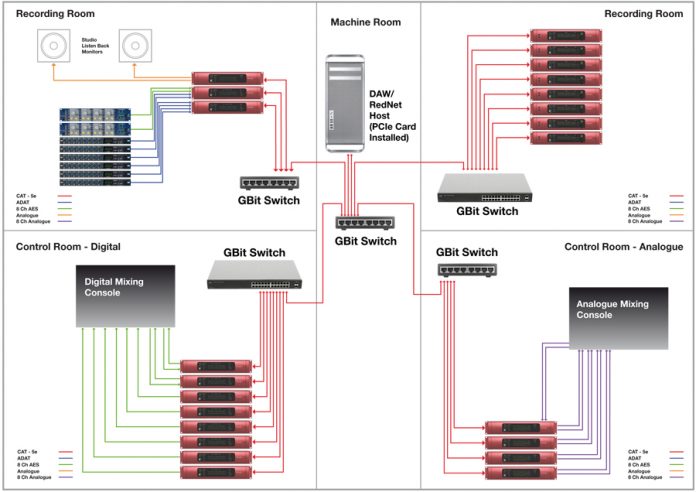 Move over Pro Tools HD, Focusrite wants in the sandbox to play and they've brought in a big shovel. This is RedNet and what it does is serve as the hub for any DAW you want. Plus it uses Ethernet to interface, thus eliminating all of those proprietary cables you would need.
RedNet is Focusrite's new professional audio networking system, delivering all the features required in a professional studio environment. Its robust, reliable networking technology makes design, installation and configuration easier than ever before. With RedNet, your audio computer system can be running any audio software you wish to use: you are not locked into a single system.
RedNet is a powerful digital audio system that will change the way you build and operate a studio forever.
At its heart is the robust, tried-and-tested digital audio networking technology Dante™, by Australian company Audinate. Dante uses standard IP-based networking and components, such as Ethernet cables, routers and switches, to carry up to 256 channels (128 in and 128 out) of high-resolution digital audio over a standard Ethernet network.
Now Focusrite brings Dante technology into the studio as part of a complete system. RedNet comprises a range of extremely high quality digital audio interfaces and components that do a great deal more than simply allow you to connect your digital studio through an Ethernet network: they will revolutionise the way you work in other ways too. Also, unlike other digital audio systems, it is non-proprietary, meaning it will work with any ASIO or Core Audio compliant DAW software, including ProTools 9, Logic and Nuendo.
Confused about how it works? Me too buddy… me too. Here's a diagram. Its a stackable Ethernet patchbay for those thousands of outboard pre-amps you have in that multimillion dollar garage studio you have.
Price ???? Do we really wanna know?