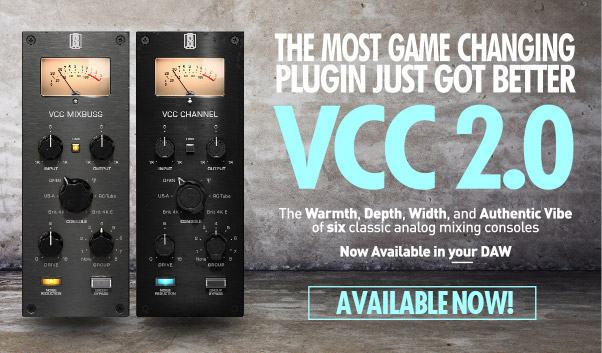 The day is finally here! After waiting for what seemed like an eternity, VCC 2.0 is available as an upgrade in Virtual Mix Rack. All you have to do is grab a copy of VMR through your login in the user area, authorize it, and you're off to the races with VCC.
The Digital Audio Workstation is one of the most revolutionary products in the history of recording. But DAW's digital mixer is sonically neutral, unlike the lush analog mixing consoles used by top pros. In 2011, Slate Digital released the Virtual Console Collection, a two plugin package that brought the authentic analog sound of five mixing consoles to the DAW mixer. It has since become an industry standard that has been used on tons of hit records from Taylor Swift to the Beach Boys.
Now in 2015, we are proud to announce the Virtual Console Collection 2.0. This new update adds a sixth console emulation of a famous early eighties British mixing desk, as well as a host of new features. It's also available in all major DAW formats including VST, AU, RTAS, and AAX.
The VCC is the easiest way to add analog vibe, depth, tone, space, and clarity to your mix. Simply put the CHANNEL plugin on your individual channels and the MIXBUSS plugin on your master fader, choose your favorite console, and your mix will transform from digital to analog before your ears.


Price: $149.00 Upgrade is free for current VCC users.
For more information, visit http://www.slatedigital.com/products/vcc