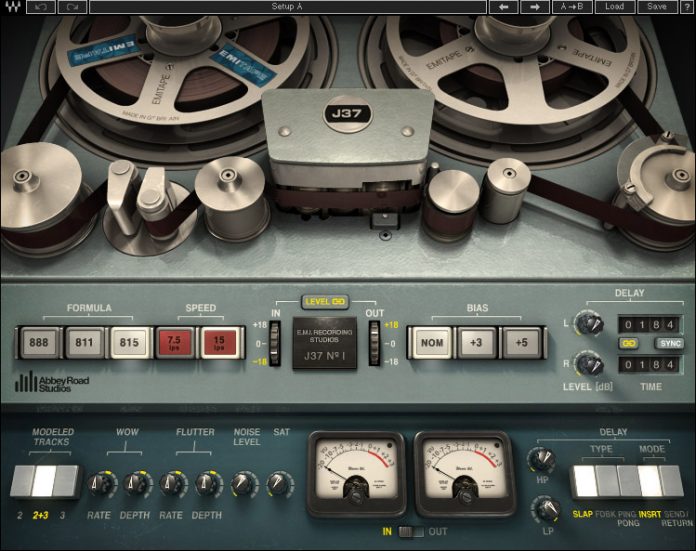 I gotta admit, the interface on this one definitely looks cool, but I wonder how it sounds? Waves and Abbey Road have teamed up once again to bring you yet another piece of iconic audio history with the J37 Tape Saturation Plugin. I have a few gripes about this. First off the price is really high for a machine that only does one thing. Granted it is a very special thing to be able to recreate the sound that changed the face of music and modern recording techniques, I just don't feel it to be worth that much. I understand they used some of the last bits of tape left to make this plugin so I guess they're trying to recoup expenses, but if you're going to charge that much, add some more features. I see it does the signature tape doubling sound but throw in a few more pieces of gear or something… or lower the price. The only way I see this being worth the money is if it does what Slates VTM does, which is make music sound astonishingly better just by having the plugin in the insert. I guess I need to try it out before I knock it right? Does someone have some cash I can have?
Waves Audio and Abbey Road Studios present the J37 tape saturation plugin: a precision model of the very machine used to record many of the greatest masterpieces in modern music. With a variety of user-adjustable controls including Tape Speed, Bias, Noise, Saturation, Wow and Flutter, the Waves: Abbey Road J37 faithfully recreates the inimitable sonic signature of the original machine. In addition to the J37 itself, three exclusive oxide tape formulas have been modeled. Specially developed by EMI during the 60s and 70s, each formula has its own unique frequency response and harmonic distortion behavior.
The Waves: Abbey Road J37 tape emulation plugin delivers a level of hardware realism never before experienced 'in the box', bringing stunning analogue warmth to your digital recordings.
While the J37 was used on many famous recordings, it is perhaps best known for its innovative use on The Beatles' Sgt. Pepper's Lonely Hearts Club Band. Producer George Martin utilized the machine not only for recording but also as a creative production tool, bouncing tracks between two J37s and creating layer upon layer of sound to achieve ground-breaking sonic textures.
"The winning combination of Abbey Road Studios' Studer J37 Four-Track machine and EMI Tape has been used to create some of the most important recordings of all time," says Mirek Stiles, Head of Audio Products, Abbey Road Studios. "As well as modeling the J37, with the amazing warmth of 52 valves, Waves has teamed it with the last remaining blank 60s and 70s tape stock from the EMI archives. EMI Tape has stood the test of time; it never needs baking and sounds wonderful. Abbey Road Studios' technical staff from the J37's heyday were consulted on the line-up procedures that they used over 50 years ago, with the end results sounding simply stunning. Waves has given us yet another unique example of Abbey Road Studios' heritage, available for the first time as a software plugin."
J37 tape saturation plugin features:
-Created in association with Abbey Road Studios
-Modeled on the machine used to create countless classic 60s tracks
-Adds analog warmth to digital recordings
-Controls for Bias, Wow, Flutter, Tape Speed and more
-Comprehensive Tape Delay including three different delay types, Sync, LP and HP filter controls and more.
The J37 is Native and SoundGrid-compatible. It is not included in any Waves bundle; it is only available separately. The Waves: Abbey Road J37 Tape Saturation plugin is now available with a U.S. MSRP of Native $249 and SoundGrid $375. Both are now available at special introductory pricing of $149 (Native) and $249 (SoundGrid).
For more info, visit www.waves.com