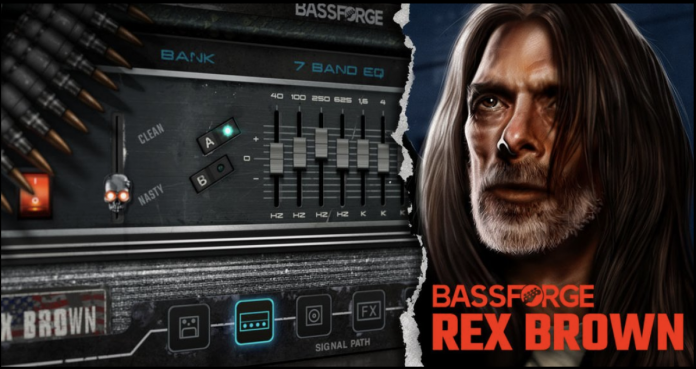 We loved the Toneforge Series (Review Here) and the Finality Limiter (Review Here). Now Joey Sturgis has partnered with Pantera's Rex Brown to build the perfect bass amp. Bassforge Rex Brown will be available July 22. Get yours now at $99 before it goes up to $149.
We've teamed up with legendary bassist Rex Brown of Pantera for the latest in our Bassforge™ series, and to say it's powerful is an understatement.

Including all of Rex's classic sounds, we've added the ease and diversity that is JST to this already incredibly powerful suite of bass tones.
GAIN MORPHING BASS AMP: Versatile and with Dual Bank Instant Recall

UNIQUE CONTROLS: like Drive, Contour, Thumpand Bark. 7-BAND EQ controlled by Amp Bank to dial in the perfect eq balance of your tone

CUSTOM VINTAGE MICROTUBE PRE-AMP PEDAL: Achieve maximum gain control and distortion that Rex is famous for

ROBUST CAB ROOM: Featuring PR40, U87, D112, and JST Sub Kick mic models with Ampeg 8×10 Cab model

BUILT-IN IR LOADER: Import any impulse response to create your own cab sounds

POWERFUL PEDALS Expand your sound with Chorus and Reverb effect pedals built in

BUILT IN CROSSOVER / COMPRESSION MIXER: Mix the high and low end individually or together – full dynamic control is yours
This brand new Bassforge™ model is up for pre-order! Get it now while you can grab it for a special pre-order price of $99 (reg. $149)
For more info, visit Joey Sturgis Tones Bassforge Rex Brown
Affiliate