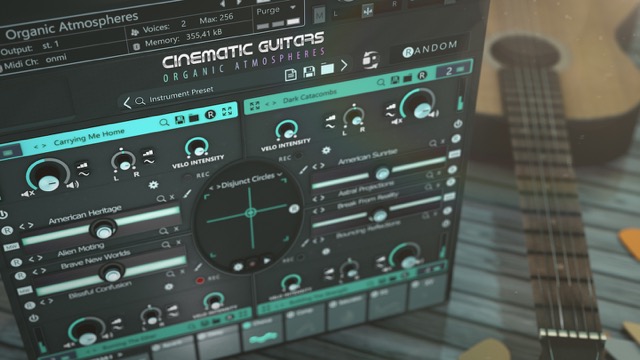 Let's face it. Being a producer on the run requires more than just a few analog synth emulators and an 808 kit. Sountracks require real instruments and in some cases, there isn't enough time to set up mics, amps, and instruments. Sample Logic has you covered with organic guitar sounds.
ASHEVILLE, NORTH CAROLINA, USA: award-winning sample library company Sample Logic is proud to announce availability of CINEMATIC GUITARS ORGANIC ATMOSPHERES — an atmospheric collection of samples and presets that advances its award-winning CINEMATIC GUITARS family of compelling cinematic virtual instruments powered by Native Instruments' industry-standard KONTAKT PLAYER platform to an even higher plane of organic soundscape creation consciousness as an all-in-one cinematic atmosphere solution second to none — as of July 27…
Derived entirely from recordings of real acoustic guitars of all shapes, sizes, and styles, CINEMATIC GUITARS ORGANIC ATMOSPHERES allows for an astronomical array of diverse, organic sounds in inventive ways that emphasise both the natural and earthy tones of realism and the imaginative world of cinema. All are a perfect fit for its inspired nomenclature. Needless to say, an inspiring individual was tasked with creating all the original samples from a suitably sizeable guitar collection — composer, performer, and producer extraordinaire Steve Quimette, namely… famed for his Guitar Hero exploits.
Exploiting his extensive knowledge and adventurous performance styles, Steve Quimette rose to the occasion, creatively criss-crossing countries and continents with a diversity of unprocessed recordings ranging from Southern, Southwest Bluegrass, and Old Western to Pacific Islands and traditional Asian genres using unique instruments such as the 4-string Cigar Box guitar, Baritone guitars, bowed and traditional Ukuleles, Puerto Rican Cuatro, Marx-O-Chime, Dobro, Purgatory Hill Harp, Silvertone Archtop, and much more besides. Beyond that, this truly magical material was duly developed by the Sample Logic team to create a wide range of all things organic- and acoustic-sounding, bringing breathtaking soundscapes to the discerning DAW (Digital Audio Workstation) user — Standalone mode operation notwithstanding, of course! From blissful and lush, dark and mysterious, bombastic and edgy to bowed, plucked, and strummed, those 850-plus presets — produced from 5GB sample content — collectively cover much musical ground, ranging from simple and stationary textures through to complex tempo-synched sonic animations. All are but a click away, while those seeking an adventurous atmospheric experience like no other with a more personalised touch can craft their own original soundscapes in a mere matter of seconds!
So CINEMATIC GUITARS ORGANIC ATMOSPHERES makes creativity simple, ensuring effortless design of infinite soundscapes. So who and what do its users have to thank for that, then? By being built on Sample Logic's dynamic MULTI CORE engine, CINEMATIC GUITARS ORGANIC ATMOSPHERES allows up to eight simultaneous SOUNDSOURCES to be stacked and shaped via four SOUNDCORES (with each SOUNDCORE capable of playing back two SOUNDSOURCES simultaneously), so starting with the seed of a soundscape then working outwards with the intuitive interface can quickly spiral into massive sounds! Such sounds need not be static, however, but can be infinitely evolving, thanks to the power and free-flowing creative combination of the X/Y slider and 3D Mixer. Mixing sounds in CINEMATIC GUITARS ORGANIC ATMOSPHERES makes for a new kind of KONTAKT user experience for sure — simply drag the crosspoint along the X/Y axis to smoothly blend between four SOUNDCORES, while the 3D Mixer itself is so much more than a balancing tool with an axis that can be linked to effects parameters that can also be animated with Sample Logic's proprietary Step Animator and Morph Animator to take things to an even higher plane of organic soundscape creation consciousness!
Speaking of effects, CINEMATIC GUITARS ORGANIC ATMOSPHERES comes complete with dozens of fully-customisable effects presets with hot-swappable SOUNDCORE FX and MASTER FX chain technology to die for. Fortunately, there is no need to feel trapped by a prescribed effects chain ever again as chains can be built and reordered in realtime from a selection of over 20 studio-quality effects including Comp. (compressor), EQ, Saturator, Phaser, Delay, Reverb, and many more besides.
Better still, Sample Logic has helpfully equipped over a dozen parameters within its innovative interface for randomisation so CINEMATIC GUITARS ORGANIC ATMOSPHERES users can quickly tap into trillions of starting point combinations with creative effects. Effortlessly arm the randomisation feature, prepare to fire! The interface's intelligent randomisation technology will guaranteed generate instantaneous inspirational results — every time!
Time, then, to unlock your creativity and launch amazing atmospheres into the world with CINEMATIC GUITARS ORGANIC ATMOSPHERES… an almost limitless number of sonic combinations are available to you and your musical muse with Sample Logic's newest virtual instrument made entirely from guitars! Go get it while the price is right.
CINEMATIC GUITARS ORGANIC ATMOSPHERES can be ordered online and directly downloaded from Sample Logic for a time-limited introductory discounted price of $199.99 USD — rising to $249.99 USD thereafter — from here: https://www.samplelogic.com/products/cinematic-guitars-organic-atmospheres (Time-limited cross-grade pricing of $99.99 USD is exclusively available to owners of CINEMATIC GUITARS INFINITY, rising to $149.99 USD thereafter; alternatively, CINEMATIC GUITARS ORGANIC ATMOSPHERES and CINEMATIC GUITARS INFINITY can be bought bundled together for only $499.99 USD, representing a significant saving over buying both products for $850.00 USD.)
Affiliate