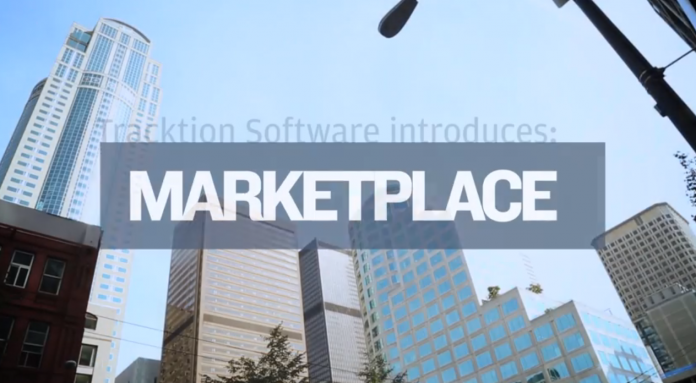 Tracktion is a DAW that has been gaining quite a bit of ground in the recordingsphere. It is extremely affordable and is becoming the "no nonsense" DAW of choice for many that are tired of the bloated overcomplicated GUIs that infest modern workstations. Now they are offering a place to buy upgrades for Tracktion.
Seattle, WA (November 28, 2014) – Tracktion Software Corporation (TSC) is pleased to announce the public beta release of a revolutionary new feature called, MARKETPLACE. More than a mere on-line bazaar, MARKETPLACE enables the download of information, software, plug-ins, sounds, instruments as well as other goods and services without ever leaving the Tracktion 5 application. That's right! While working in Tracktion 5, you can quickly and easily discover, audition, purchase and download new musical assets from a wide variety of vendors, without interrupting your creative flow. This capability has never before been available in a professional audio application and will make life so much easier, you'll wonder how you got along without it so far!
Check out the quick overview video (right) for a better sense of what MARKETPLACE is and how it can streamline your creative process. You just need to download the latest Tracktion build (v5.4.2) – always free to T5 users – open the MARKETPLACE tab in the T5 application and give it a go. The speed, simplicity, and especially the automated download feature, will quickly make you realize that spending hours on the web, searching for new plug-ins, waiting for downloads and then hoping everything works in your session is a huge waste of time, energy, talent and inspiration. MARKETPLACE was created to eliminate all of that by allowing you to grab what you need without slowing down.
This tutorial video (right) silently walks you through the setup and operation of MARKETPLACE as part of your T5 software (once T5.4.2 is installed). As an example, we'll show the purchase process for what is certain to be a popular item – Tracktion's MasterMix plug-in (below) – only available from MARKETPLACE! Based on the popular FinalMix plug-in, MasterMix gives you everything you need to put the finishing touches on any mix.
See how quickly and easily you can add to your libraries while avoiding the distractions and frustration typically associated with internet shopping. Give MARKETPLACE a try today and let us know what you think!
To download the latest version of Tracktion or to purchase, visit http://www.tracktion.com/
Affiliate