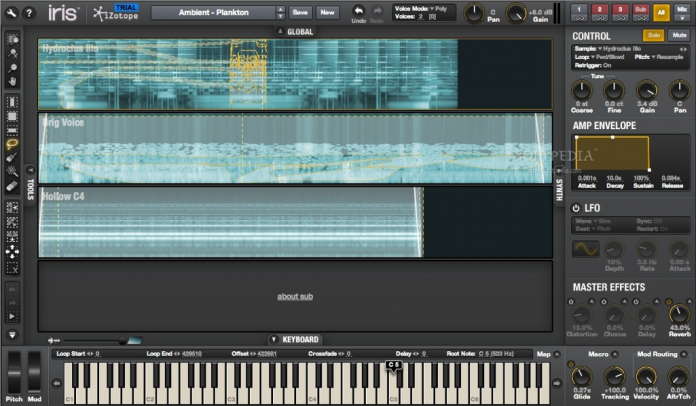 Great news for Iris owners. The perveyor of all things texture and atmosphere have released 2 new instrument based sound libraries. Each add a new flavor to Iris' already layered soundscapes.
iZotope, a leading innovator in digital signal processing, has released two new sound libraries for Iris, the ground-breaking visual synthesizer. Altered and Modular, the largest sound libraries to date, will join Glass, Wood, Voice, Toys, and Food to round out the new Iris+7 bundle, available now.
Altered, the first of two new instrument based sound libraries for Iris, reimagines familiar musical instruments like piano, guitar, and bass by uncovering unconventional timbres through bowing, scraping, bending, and more. Altered includes over 300 new samples such as Plastic Rod on Harp, Piano Strings Resonant Spoon, and Didgeridoo Into Fan, and 200 professionally designed patches like Spectral Bubble, Dub Trombone, and Visual Karate.
Modular, the second new library, is based on samples created from new and vintage modular synths. Ranging from pulsing tones and lush effects to glitchy syncopations and Cartesian sequencing, Modular is designed to harness varied sonic palettes into musical patches for any project. Modular features over 600 samples including Growler Bass, Butterfly Chaos, and Funk Bot Pulse, and 300 patches like Metal Sloths, Zaptastic, Murky Glitch, and Ghost Mallets.
"When Iris was first released in April of 2012, we explored the incredible sonic possibilities of materials like Glass, Wood, Voice, Toys, and Food," says Jack Cote, Product Manager at iZotope. "Now in 2013, Altered and Modular are bringing traditional musical instruments and vintage synth designs into the Iris world, with thousands of new sounds to kick off your next track. If you don't have Iris yet, it's the perfect time to get everything Iris, all at once, with Iris+7."
Pricing and Availability
Through May 23, 2013, all products in the Iris family are over 30% off, including Iris and all sound libraries.
Iris+7 is now available for $239 (reg.$349 / € 285 EUR MSRP)
Iris Altered is available for $34 (reg. $49 / €35 EUR MSRP)
Iris Modular is available for $34 (reg. $49 / €35 EUR MSRP)
To purchase, please visit www.izotope.com/products/audio/iris/buy.asp.
To learn more about Iris+7 and the new Altered and Modular libraries, visit www.izotope.com/iris.
Affiliate